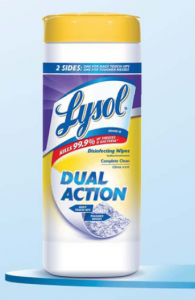 You will receive a refund of full purchase price (up to $5.00 by mail) when you purchase the Try Me Free Lysol Dual Action Wipes Mail-In Rebate on 35 ct or 75 ct. The rest of the information is on the rebate form, but keep your receipt and you will have to clip the UPC code from the package. Right now it will be pretty much FREE so it really doesn't matter where you buy it. You have until 4/30/12 to purchase.
*It's always a good idea to read the fine print of a rebate offer. It says in the fine print NOT good on promotional multi-packs of Lysol wipes. So all those BOGO on sale last week at Walgreens won't be valid. Now if you submit it and receive it, then please let me know. I am one of those that would rather be safe than sorry.
I will only buy either a 35 or 75 ct to be safe.
Anything to Add? Leave a Comment!