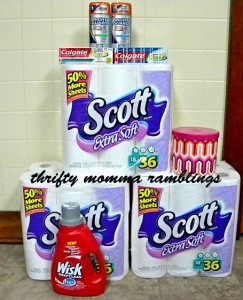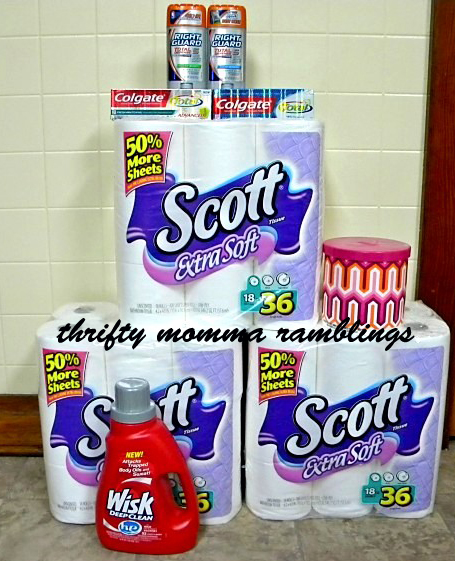 I didn't do outstanding and get everything for free or even close to free on my CVS shopping trip today. I didn't have many ECB's to use and I had my son with me who was sick today. It was his turn so we were picking up his prescription while I did a little shopping. I paid for my purchase out of pocket, but I wanted to have some ECB's to roll over for the future sales. I am constantly rolling old ECB's into new ones. If I really would have had the time, then I would have sat there with several purchases, but like I said my son wasn't feeling too hot and it was kinda crowded.
*Quick Note: I promise to write a guide soon on coupons, shopping at CVS and Walgreen's very soon! I will explain a couple of quick things.
ECB= ExtraCare Buck (you MUST have a CVS Extra Care Card to get them)
ExtraCare Buck are those special sales advertised like Buy xxx for $3 and receive a $2 ECB
You use them just like cash. They do have expiration dates.
Promise now you will ALWAYS scan that card under the scanner machine when at CVS. You never know what great coupon will print.
The other great thing about CVS is you can stack their store coupons with manufacturer coupons to get stuff for FREE or almost free!
You can do the exact same thing with Walgreens and Target.
Walgreens Register Rewards are just like ECB. They actually copied CVS. They used to have a rebate form you had to fill out and mail in monthly.
Now back to my trip for today. I spent $33 exactly today. Yes it was all out of pocket, but now I have $8 in ECB's to use for the next trip. My store was out of the Free Natural Relief medicine. I am debating if I want to buy anything for the $10 ECB wyb $30 in Gillette, Venus, and Olay. I think I will as there is a printable rebate online for $15 back (not on Gillette but on Venus, Olay, and others).
I did buy $20 worth of Scott's toilet paper and the coupons I had were for the natural rolls only and the soft. I did get my free laundry detergent. My cashier wouldn't take my $1 off  Wisk since I was getting it FREE and she's become a friend so I let it go. Technically she's right, but she did make a funny comment  about how bloggers say CVS cashiers take the coupon but we aren't supposed to. She knows I blog so I had to laugh at that one. 🙂
3 rolls of Scott's Soft toilet paper
1 FREE Wisk Detergent for HE
1 Cottonelle Roll Cover
2 Right Guard deodorants
2 Colgate Advanced Toothpaste
Now I have $8 worth of ExtraCare Bucks for the next purchase. I still need to buy the Natural Pain Reliever and some other sale items. At some point I was going to spend money out of pocket as I didn't have any bucks. I could have rolled the $2 ones several times to still have $2. I did have $2 from my quarterly savings. I was happy to get a $9 bottle of detergent FREE and I always need toilet paper which was still a good sale price. Walmart is over $10 for a 12 pack. I still feel I saved a good bit of money today. My receipt says I saved a total of $29.67 with sales and coupons! I will get back to the days where I was paying less than $5 for all my items.
What did you buy this week at CVS?
Anything to Add? Leave a Comment!