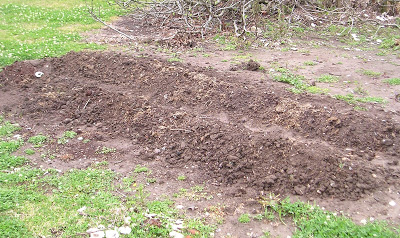 One of the things I love most about living in South Louisiana is the long growing season. Our spring starts as early as February. The clover is already growing in my yard, the buds are forming, and it's time to plant vegetables. I have had a vegetable garden before, but I never kept it up mostly due to time constraints or laziness on my part. This year I'm determined to keep it up more than a couple of months.
Many people try to start with too many rows or beds, or too many different types of vegetables or fruits. I'm starting out small this time. I have two long rows my husband tilled with a shovel. We have really great dirt in our yard. Then another complaint people have is either they don't have a green thumb or the space to put a garden. Well not everyone is fortunate enough to have an acre of land. Start out with container plants. Almost everyone has space for a container of tomatoes or even herbs.
Now I have killed a couple of plants, but most of what I plant does quite well. I first started out by just planting mostly perennials around my house. Then a couple of years later, I planted a couple of wild blackberry bushes which have done extremely well. I say start out slowly, but also make sure what you are growing will do well in your area. Where you plant makes a huge difference. Don't plant things that need full sun in mostly shady areas and vice versa. Make sure you know how much sun or shade that plant needs. Pretty much all vegetables need at least 6-8 hours of sun daily.
My husband tore down an extremely old shed last summer. It's a nice open dirt patch with the fig tree behind it. I need to prune that tree back before it blooms too much. I thought that patch was the perfect spot to start my garden. We only tilled part of it, but I can always add more rows in the future. Then I amended the soil with bagged manure, peat moss, and my inlaws gave me free bagasse. This is a sugarcane by-product which is great for gardening. He got me the kind that was a couple of years old and very crumbly. It really looks like a mulch. I also sprinkled a small amount of triple 13 fertilizer. I mixed it up in the soil very well and let it sit for a couple of weeks. My husband made the mounds for me this past week, and I planted cucumbers and Roma tomatoes. I usually use the fertilizer initially on new beds, but I never add more. I also put a small amount since I do have good soil, and I put lots of other additions to my soil. I have started a compost pile so in the future I will add this to my garden. Below are some pictures.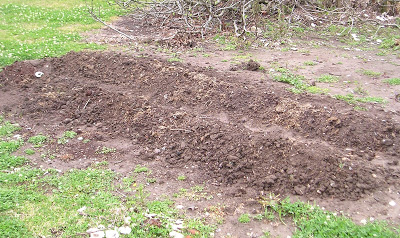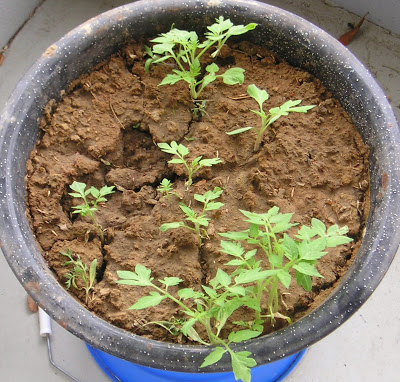 My inlaws also gave us several Roma tomatoes he started from seeds. I decided to just throw some seeds in the ground and see what happens. I have a friend who does this with great success but you have to pinch the excess. I think one of the great things about gardening is experimenting with different methods. Most gardeners swear by using tomato transplants only in the garden, but I wanted to experiment with just planting the seeds directly in the ground. I also plan to keep notes so I can refer back to them from year to year. I do have plans to plant more fruit trees and bushes in the coming years. I just planted two blueberry bushes which are already doing fabulous. I spent $7 on each bush at my local nursery for a year old plants. They already have lots of blooms plus I see several new shoots. I will post more about how my garden is doing, and I am very excited in seeing the new life.
Anything to Add? Leave a Comment!