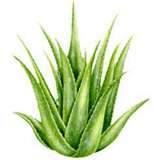 Today's thrifty tip is buy an aloe vera plant. This is a wonderful plant that you can use for many first-aid remedies.
Aloe vera is great to use on: scrapes, insect bites, stings, cuts, burns and especially a sunburn. You can also use it for acne and patches of eczema.
All you have to do is cut off a small piece and squeeze out the gel to apply on the affected area. If you know someone that already has a plant, then ask for a couple of shoots. I have mine in a pot on a sunny windowsill inside my house. They are very easy to grow, and require little water since it's part of the cactus family.
Do you own an aloe vera plant?
Anything to Add? Leave a Comment!