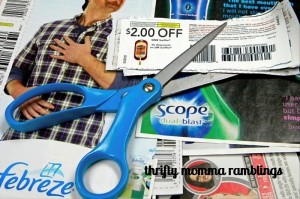 We are all trying to save money in today's economy. How do we stretch more of our dollars? I use coupons and rebates to S-T-R-E-T-C-H my dollars further, and I enjoy the thrill of the hunt. Below are great tips I have listed on how I save more money on this coupon chat.
Now granted buying store brands or using a homemade alternative (think cleaners) is cheaper, but there are many times I can get name brand for either Free or much cheaper than the store brands.I say why not if you are getting the items for free.
Another really great tip is not to be brand loyal. I do have certain brands I like more than others, but trying new brands can help save money. There are times that I liked the other brand more than my usual favorite brand. I don't buy too much convenience food or condiments. They aren't healthy and it's usually cheaper to make your own  version from scratch. I can substitute healthier items such as whole wheat or extra vegetables into a meal.
I don't have access to really great supermarkets like Kroger's, Albertson's or  Save-A-Center, but I still manage to find great deals with the stores I do have access to in my small town. I have 3 local family owned stores and a Super Wal-Mart. I am not fortunate enough to have a store with double coupons except for Fred's Dollar Store. They only take coupons up to 65 cents and 1 coupon per item. I find I save more with CVS and Walgreens.
So where do I get all these coupons other than the Sunday paper? I buy certain coupons off ebay, I post on coupon forums, and other coupon clipping sites where you pay for their time to clip them. You can also trade them on these coupon/rebate sites. There are lots of sites but I have a few sites that I like to frequent and get coupon previews so I know if I should bother buying the paper or save my money. I also get coupon inserts from the paper recycling bin. It's easy access (no digging in dumpsters or climbing) and free for anyone. I take a couple which are usually right on top when I'm dropping off my papers already. It's right down the road from my house. I can't always count on it, but I usually get extras each week. Some stores will even give you the coupon inserts on old papers if you ask. This will depend on the store and area. Another great place to get coupons is your local library. Many have coupon trading groups. If your library does not, then try to start one.
I don't save hundreds of dollars off a single shopping trip, but I do save enough to make it worthwhile. To save the most is to combine a rebate with a coupon. Walgreens and CVS will allow you to use one manufacturer coupon along with one store coupon per item. I also shop at Rite-Aid and do their rebates each month. It's a great way to earn some free stuff which I also use as presents or donate the extras.
Listed below are some great websites and just copy/paste the links into your browser. Enjoy! What are your favorite coupon sources?
<a href="http://www.mycoupons.com/boards/">My Coupons Board</a>
<a href="http://www.hotcouponworld.com/forums/index.php">Hot Coupon World</a>
<a href="http://www.fatwallet.com">Fat Wallet</a>
*This is a great coupon clipping service. They are fast and have a great variety.
<a href="http://thecouponclippers.com">The Coupon Clippers</a>
*This is an online site or you can also join to get a paper subscription but I am a member of the online only. Lots of great deals/info posted here.
<a href="http://www.refundcents.com">Refund Cents</a>