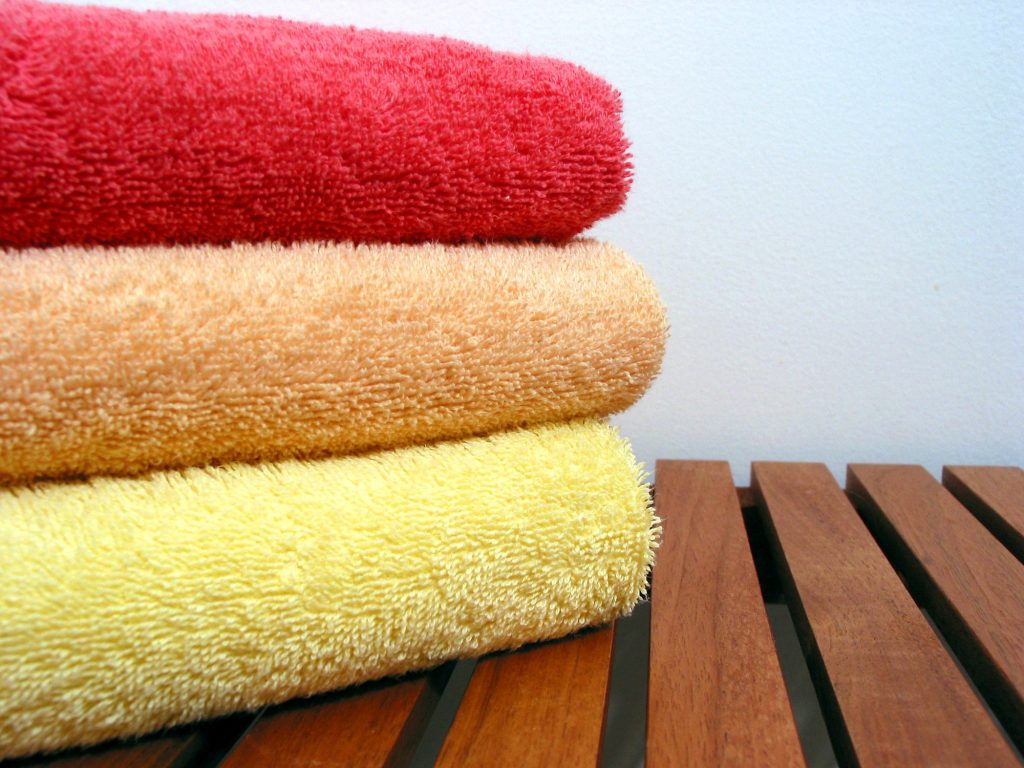 Did you know the towel industry has a $2.94 billion market size? 
There are a lot of types of towel materials in the market. Having different types of towels for other purposes can be life-changing. But what is the best towel material?
This guide provides an overview of all the different types of towels. Read on to pick your favorites to be your go-to set.
Cotton
Cotton is widely considered to be the best material when it comes to choosing bath towels. It is soft, absorbent, and durable, making it the go-to for creating well-made towels. Furthermore, cotton is a natural material, allowing air to circulate freely and helping to keep towels free from mildew and bacteria.
Cotton is available in a variety of different weaves so that you can find the perfect feel for your needs. Cotton can also hold lots of water and is excellent for drying off quickly.
Furthermore, the cost of cotton towels is relatively inexpensive, making them the perfect choice for budget-conscious shoppers and those who prefer quality over quantity. Be sure to look for the best affordable towel sets for sale that can save you more money.
Microfibers and Microfleeces
The best types of bath towels include microfibers and microfleeces. Microfibers are incredibly soft and absorbent, made from synthetic materials like nylon, polyester, and spandex. They are great for absorbing moisture and quick drying the skin.
Microfleece is a lightweight, high-performance fabric. It is designed to keep you warm and dry, perfect for cold winter days and nights. Microfleece is also antibacterial and provides UV protection, making it an excellent choice for outdoor activities.
Bamboo
Bamboo is an excellent choice of material for the best type of towel. Bamboo is renewable, strong, and ultra-absorbent. It's lightweight and durable, meaning that a bamboo towel is excellent for everyday use in your household.
Bamboo is also naturally antibacterial and hypoallergenic, making it an excellent choice for those people with allergies or skin sensitivities. Bamboo towels also dry quickly, so you won't have to worry about towels that take too long to dry or get musty in a damp environment.
This type of towel is also highly sustainable and biodegradable, which reduces its environmental impact. In addition, bamboo towels are soft and comfortable, making them gentle against your skin when drying off after a shower or bath. With all these factors in mind, bamboo is an excellent choice when shopping for your next set of towels.
Rayon
Rayon is one of the best types of towel material due to its versatility, affordability, and comfort. It is a synthetic fiber made from purified cellulose, often from wood pulp, and is known for its soft feel, luxurious texture, and bright colors.
It is highly absorbent with excellent water retention, so your towels stay dry longer. Due to its efficiency and resistance to wear and tear, it can last for years and endure regular usage with no signs of wear. Its affordability makes it one of the most popular choices for towels at home and in commercial areas. 
Finding the Best Towel Material
To find the perfect towel material, try various materials and see which fits your needs best. When selecting a towel, the best materials to look for are cotton, rayon, microfiber, and bamboo. All of these options provide soft, absorbent towels for comfort and durability. 
Be sure to visit our website for more helpful ideas. 
Anything to Add? Leave a Comment!