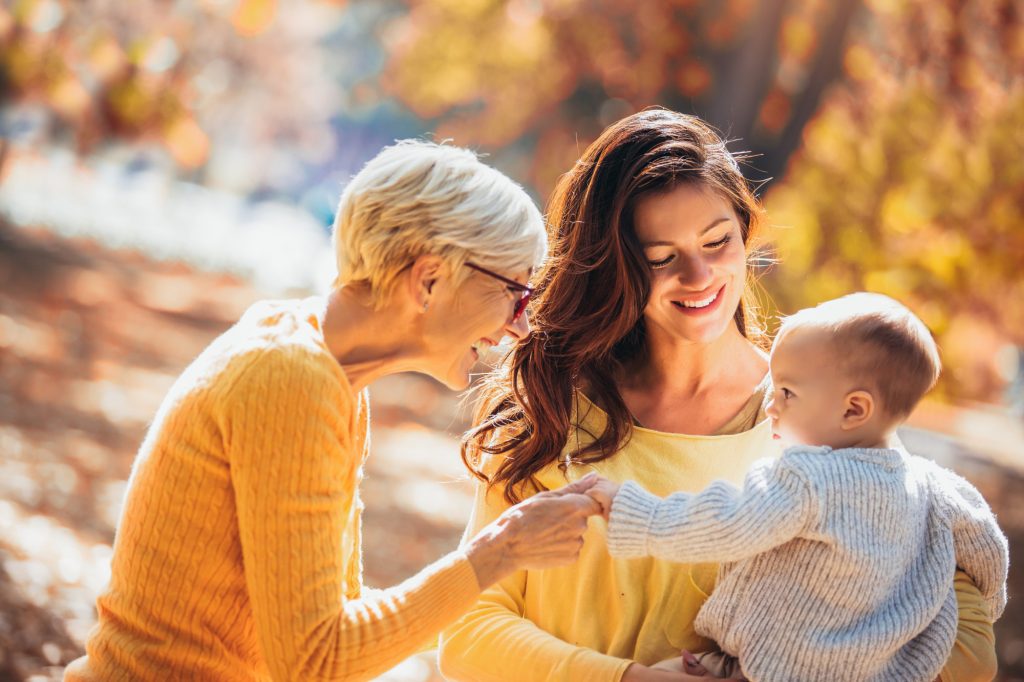 They say the only thing more exciting than becoming a parent is becoming a grandparent! You get to enjoy all the fun and love of a child, but you get to hand them back when they get grumpy or fill their diaper.
It can be hard to know what to buy to celebrate the good news with your parents. Even if they don't expect a gift, it's a nice sentiment to give them something to mark the occasion.
If you are expecting and are looking for some first grandchild gift ideas, you're in luck. Keep reading to see some of the best and sweetest gifts you can give to your parents!
1. Framed Baby Hand and Foot Print 
One thing that grandparents are fully aware of is just how quickly time flies after a baby is born. One minute you're holding a tiny newborn, the next you're waving them off to their first day of school. Before you know it, your child is having a little one of their own.
You can immortalize those precious early days with a framed hand and the footprint of the new baby. It's something they can cherish as the child grows up, and they'll never forget just how tiny they once were.
2. Grandchild Sleepover Supplies
If you're looking for practical gifts for new grandparents, you could gift them a bunch of items for the first time they stay the night! Bed linens, a pacifier, storybooks, and their own milk bottle are just a few ideas!
You could even package them in a sleepover bag and gift them to the grandparents like that. It'll build excitement not just for the baby's arrival but for all of the moments they have to look forward to.
3. Customized License Places 
If you're looking for really cool, unique baby gifts for new grandparents, check out these grandpa license plates! With your family name in the middle, you can add everyone in the family to their own license plate, including the littlest member.
With up to 10 names on the plates, there's plenty of room for the whole family.
4. Grandmother and Grandfather Matching Shirts
Any grandad would proudly wear a t-shirt declaring his new title. A fashion-conscious grandmother may take a little more convincing, but this doesn't mean she's any less proud.
If your parents are fun-loving and don't take themselves too seriously, you could buy them matching t-shirts that they can wear together for a photoshoot with the new baby!
5. Grandmother Keepsake Bracelet
If a graphic tee is something you can imagine the new grandmother will use as a dishtowel within a few weeks, you could get something a little more discreet for her to wear that shows off that she has become a grandmother.
A bracelet with an engraving of the baby's name and/or date of birth is a wonderful gift for any grandmother-to-be and one that she will truly cherish.
6. Pregnancy Reveal Puzzle
Expectant parents are always trying to come up with new ways to announce the amazing news, and this is a super cute and fun way to break it to the soon-to-be grandparents!
If you haven't told your parents that you're expecting yet, you could buy them a puzzle with the announcement on it. It's up to you to decide how difficult you want the puzzle to be – make them work for it!
7. Cupboard and Drawer Locks
If you want to be a little cryptic in your pregnancy reveal, why not buy some magnetic cupboards and drawer locks for their house?
They might take a minute to figure out why on earth you've bought them babyproofing items, but the look on their faces when they finally realize will be absolutely priceless. 
These small locks will also come in very handy in protecting the little one's hands and fingers from cupboard doors and the contents of kitchen drawers.
8. Books on Being a Grandparent
There are some amazing resources out there for parents and grandparents alike.
While being a grandparent is undoubtedly loads of fun, some will want to make sure they are intentional with how they treat their grandkids and how they can make the most of the time they have with them.
Grandparenting by Pam Siegel
This is a wonderful book that teaches grandparents to start to relive their youth through their grandkids. Taking inspiration from the younger generation can bring new vitality to life, so your parents will love what this book teaches.
Grandparenting With Grace by Larry E. McCall
If your parents are religious or like to pray, this book is a fantastic resource that will both inspire and encourage your parents to be the best grandparents they can be.
It also provides practical advice to allow grandparents to be a truly positive influence on their grandchildren's lives.
Nanaville by Anna Quindlen
This New York Times Bestseller is a moving account of being a grandmother, and many see it as required reading for new grandparents. It is inspiring and emotionally engaging, and it will give your parents a little window into what to expect as they embark on this new journey of grandparenthood.
Some of the Best First Grandchild Gift Ideas
Hopefully, you'll have found some great first grandchild gift ideas in this article. Everyone has a different relationship with their parents, so you know best what they'll like.
Whether you get something sentimental, practical, or funny, you can be sure that the new grandparents will be over the moon and the gift will get them even more excited about the little one's arrival.
Check out the family life section of the blog for more information and advice on everything to do with the family!
Anything to Add? Leave a Comment!