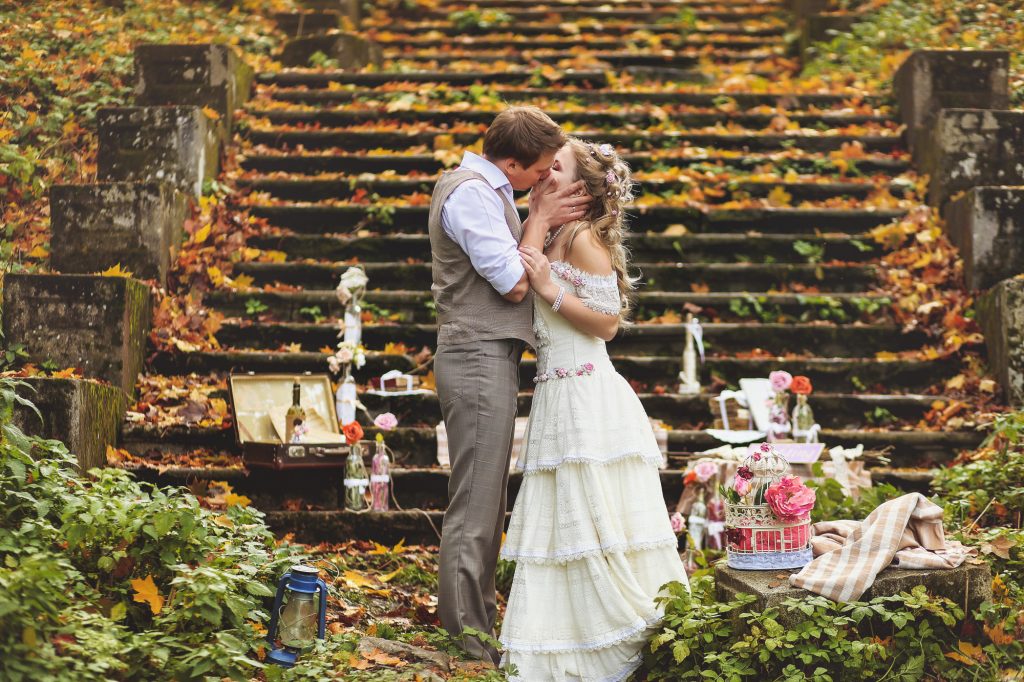 Are you searching for inspiration for your outdoor fall wedding?
You've found the right place. We've put together some outdoor fall wedding ideas to inspire your wedding planning and ease some creative stress off of you.
Continue reading to find the perfect fall wedding ideas that will help you create the wedding of your dreams!
1. Choose Fall Colors 
When planning your fall wedding, fall colors are the perfect way to tie everything together. Whether your bridesmaids' dresses are burgundy or your table runners are navy, fall colors are a simple but beautiful enhancer.
Wherever you place your colors, pick a fall color palette and stick to it. This will ensure a seamless, gorgeous range of fall wedding colors that match the crisp autumn air.
2. Enhance With Wooden Accents 
One major trend for outdoor fall weddings is the use of wood. With a cozy and rustic feel, wooden staples or accents are the perfect fall wedding decoration.
You might choose to have wooden signs or a wooden harvest table. Whatever your style is, wood accents add a hint of autumn to every setting. 
3. Display Dried and Vibrant Florals
A chic way to use dried florals is to display them throughout your outdoor fall wedding. These are beautiful in centerpieces, in your bouquet, or strewn around the ceremony site.
Dried florals resemble the changing of the seasons and are perfect for your outdoor wedding.
4. Hang Twinkling String Lights
Sparkling lights are magical and sweet, just like your wedding will be.
As the sun sets and the festivities begin, light up your outdoor wedding with string lights. This will cast sparkles over you and your guests, setting the mood for romance and happy beginnings.
5. Indulge in a Naked Cake
Naked cakes are all the rage today, especially for fall outdoor weddings. The simplicity and beauty of a naked cake will add to your fall decorations and provides a delicious dessert for everyone.
6. Add Greenery Everywhere
Greenery is a must-have when it comes to your outdoor fall wedding. Decorate with ferns, lay a greenery arrangement over your tables, or incorporate green throughout your ceremony site. 
A pop of green is the perfect addition to your fall decor, enhancing your entire setup.
7. Offer a Hot Chocolate or Coffee Bar
One thing wedding guests never expect is a hot chocolate or coffee bar. Surprise and delight your family and friends by offering them a hot drink when the sun goes down.
Nothing goes better with cake than coffee and nothing satisfies the fall spirit like hot chocolate. Stock up on decaf, regular, and sugar to wow and warm your guests.
8. Illuminate With Candles 
One thing a wedding is never complete without is candles. The perfect staple to an outdoor wedding, candles flicker and gleam through your tables and illuminate everything with a glow. 
If you're looking for cozy candles to complement your outdoor fall wedding, K&S Events offers several wedding packages that include the perfect candles for you.
Enrich Your Celebration With These Outdoor Fall Wedding Ideas
Planning the perfect autumn wedding is made easy with these outdoor fall wedding ideas. You'll be able to relax and enjoy your special day once all of your planning comes together.
Feeling inspired? Check out the rest of our blog for more wedding planning content.
Anything to Add? Leave a Comment!