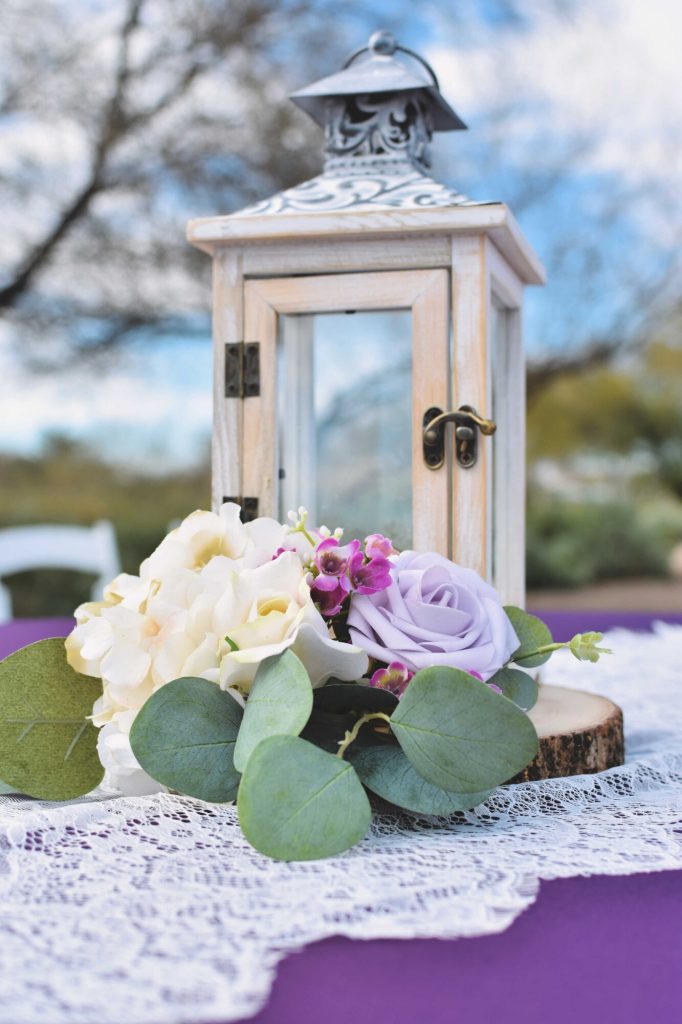 Congratulations!
The proposal's been proposed and accepted. You've spread the word to your friends and family. And now that you've had a minute to let things sink in it's time to start planning the wedding.
That's when you realize the wedding you see in your mind and the amount of money in your bank account? Not on the same page.
Deep breaths. With these 8 DIY wedding ideas on a budget, your big day will be perfect.
 1. Skip the Stationery Store
It is no longer necessary to shell out lots of money to invite people to your wedding. Now you can download customizable invitations, RSVP cards, and Save the Date notes from places like Etsy or Canva to print at home or your local print shop.
Or get crafty with it. Order a personalized stamp and a pack of blank postcards. Hand letter invitations and then use edge punches to make them fancy.
Even with the craft supplies' cost, you'll save hundreds of dollars over customized invitations at a retailer. Or skip the paper invitations altogether and opt for a wedding website hosted on a free platform and email the link to your guests.
2. Location, Location, Location
Hotels, dedicated wedding venues, and even some churches may not be the best way to go if you want to save money.
Look into public or city-managed spaces, museums, or your county courthouse. Your college or university is a great option if you have special memories there. And cafes, bars, or restaurants can be intimate and personal locations for smaller weddings.
While your home or backyard is always a possibility, also consider renting an Airbnb either locally or as a destination wedding for an affordable venue option.
3. Think Outside the Wedding Dress Shop
Obviously, if you have the skills, making your own dress is the true DIY solution, but the cost of materials can be spendy.
Thrift stores, eBay, and Etsy offer many options for vintage or secondhand wedding dresses for every budget. You can wear them as is or tailor them specifically to your aesthetic. 
If you're buying new, look for dresses without the wedding label for brides and bridesmaids at the shops you love. Grooms and groomsmen can easily forego renting or buying tuxes and opt for suits. Or skip the jackets altogether and go for a button-down for a more casual affair.
4. Frugal Florals
Flowers for weddings are typically priced per stem. The best way to save money on your floral arrangements is to limit your use of fresh flowers. Stick to fresh flowers for your bouquets or boutonnieres and use faux flowers and greenery everywhere else.
Costco, Sams Club, and online wholesale flower sites are budget-friendly sources for your fresh flowers. But be sure to include things like buckets, gardening tools, and gloves in the budget for your DIY work.
If the cost of any amount of fresh flowers falls outside your budget, paper or felt flowers and greenery are perfect DIY options.
5. Be Your Own Caterer
Instead of offering your guests multi-course meals, think a bit smaller. Focus on appetizers, cocktails, or a bar full of fun food that fits your decor and theme. 
To avoid overwhelm, buy store-bought, pre-made items like puff pastry, pre-cut veggies, or anything else that will save you time. Your creations will be just as delicious without keeping you in the kitchen for your big day.
What about the cake? If you're a master baker, your wedding cake is a DIY no-brainer. If not, start with a store-bought cake and make it your own, or go with the most basic wedding cake your local bakery offers and then add decorations and touches that fit your aesthetic. 
6. Rock Your Reception
The possibilities for simple wedding decoration ideas for the reception are endless. 
Download and print seating charts, escort cards, or menus. Make hand-lettered signs. Mix and match thrift store plates, silverware, and glasses.
Create a photo booth that matches your decor and have your guests take instant photos. They can keep one for themselves and leave one for your guest book.
Finally, be your own DJ. Make a curated playlist or have a communal playlist that your guests can contribute to. Then dance the night away.  
7. Give Gifts From the Heart
Send your guests home with a little taste of the wedding. Small jars of local olive oil or honey that you used in your appetizers. Tiny jars of jam. 
Or gift them something that will continue to grow: succulents, tree seedlings, or flower seeds. You can even use these botanical features as centerpieces on the tables and send the decorations home with your guests.
8. The Deals Are in the Details
We've only scratched the surface on what's possible with wedding decoration ideas on a budget. The amount of money you can save while creating beautiful DIY details is really unlimited.
Use items from home to personalize both the wedding and the reception. Use the pretty books on your shelves as part of the centerpieces. Repurpose antiques and furniture from your home or from thrift stores to make your venue cozy and unique. 
What About the Things You Can't DIY?
It's not always possible to do every detail of your wedding yourself. But there are definitely ways to help the budget in those areas as well.
Transportation can be a big stress-inducer on the big day. Especially if you have a lot of people to coordinate and parking is an issue.
Consider getting a wedding shuttle. Most companies offer several sizes and packages to fit all budgets, and they can even help shuttle stuff back and forth as well as people.
To keep your photography and videography expenses down, stay local rather than having someone come from out of town. Check your network to see if someone on your guest list might be the photographer of your dreams.
Or have a photography registry or GoFundMe instead of a gift registry. Your friends and family can help you capture your day and also benefit by getting copies of the photos.
DIY Wedding Ideas on a Budget For the Win
These DIY wedding ideas on a budget prove that you can have the amazing wedding of your dreams without sacrificing your entire savings. Better yet, by using all the creativity, skills, and connections at your disposal, your wedding will not only be affordable, but completely you. 
Check out the other sections of our blog for more thrifty ideas to save money before and after your wedding day.
Anything to Add? Leave a Comment!