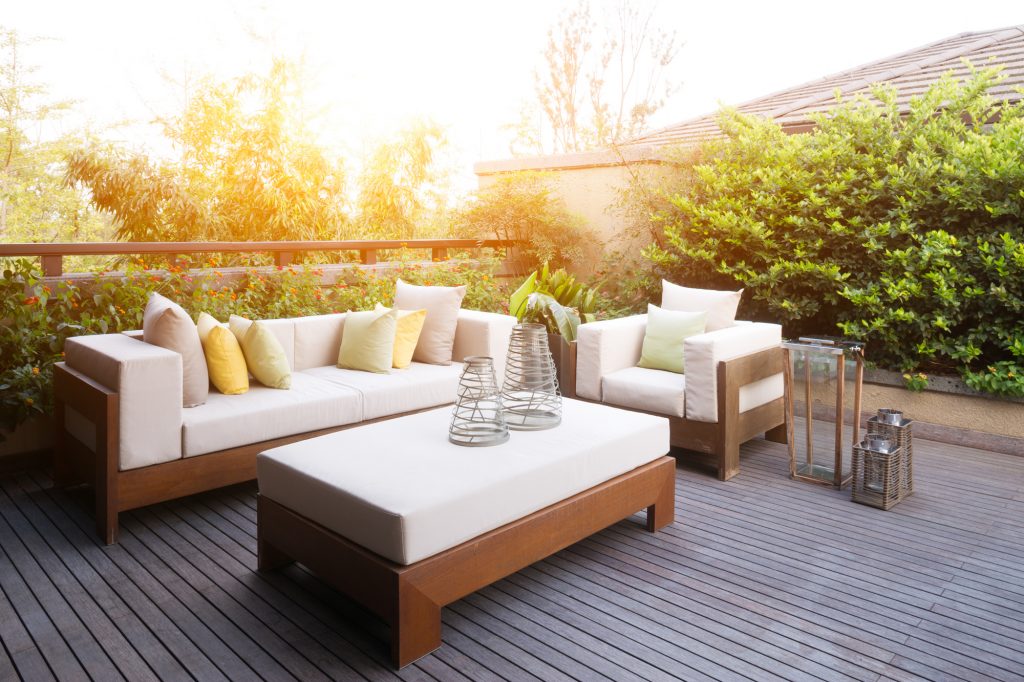 Creating a patio for your home is an excellent way to boost curb appeal and make better use of your outdoor space.
Worried that you can't afford a fancy patio?
Don't despair – it's possible to create a patio on almost any budget, you just need to keep an open mind and be willing to get creative.
Are you ready to create a really unique patio that you'll love spending time on?
Keep reading for our guide to creating a great patio on a budget.
Use Pallets to Create a Boho Deck
If you've ever visited Pinterest, you'll know that pallets can be used for just about any home improvement project – and patios are no exception.
By arranging pallets into a shape of your choosing and securing to the ground, you have an instant patio. Leave pallets unfinished for a boho look, or paint and seal for a more polished finish.
You could even use an upturned pallet as a cute planter next to your patio.
Experiment With Salvaged Flooring for a Mosaic Look
By salvaging leftover tiles, slabs, and bricks from other construction projects, you'll have plenty to play with when it comes to creating your own mosaic patio.
Use a cement, like Hymix, to create the base of your patio, then press in your stones, tiles, and other salvaged materials. You could even add decorative accents with colored marbles and glass beads.
Be prepared for tons of questions from impressed visitors.
Lay Your Own Bricks in a Shape of Your Choosing
A plain brick patio is a really nice option if you don't want to go as far as creating a whole mosaic look.
It's easy to lay regular bricks in all sorts of beautiful patterns, so take a look at some inspiration online and get laying.
Bricks are inexpensive and easy to find, making this an excellent budget option.
Fill the Space with Low-Maintenance Gravel
If you're looking for the ultimate low-maintenance patio, it doesn't get much better than gravel.
Simply mark out an area, purchase enough to gravel, and then spread evenly around your chosen spot. Gravel is available in a wide variety of colors so you'll still have plenty of creative control.
A gravel patio will look great with metal garden furniture and ceramic ornaments, and you'll never have to worry about cleaning or maintaining it.
How to Design a Patio on a Budget
Creating a patio on a budget is simple if you opt for cheap or salvaged materials, choose a relatively small area, and set aside time to do most of the work yourself.
If you're not confident, ask family and friends for help acquiring materials and carrying out the project – most people will be excited to get involved.
Try one of the ideas above and you'll soon be dining al fresco, enjoying tons of fresh air, and getting much more value out of your backyard.
Want more ideas on how to live frugally? Visit our website today.
Anything to Add? Leave a Comment!