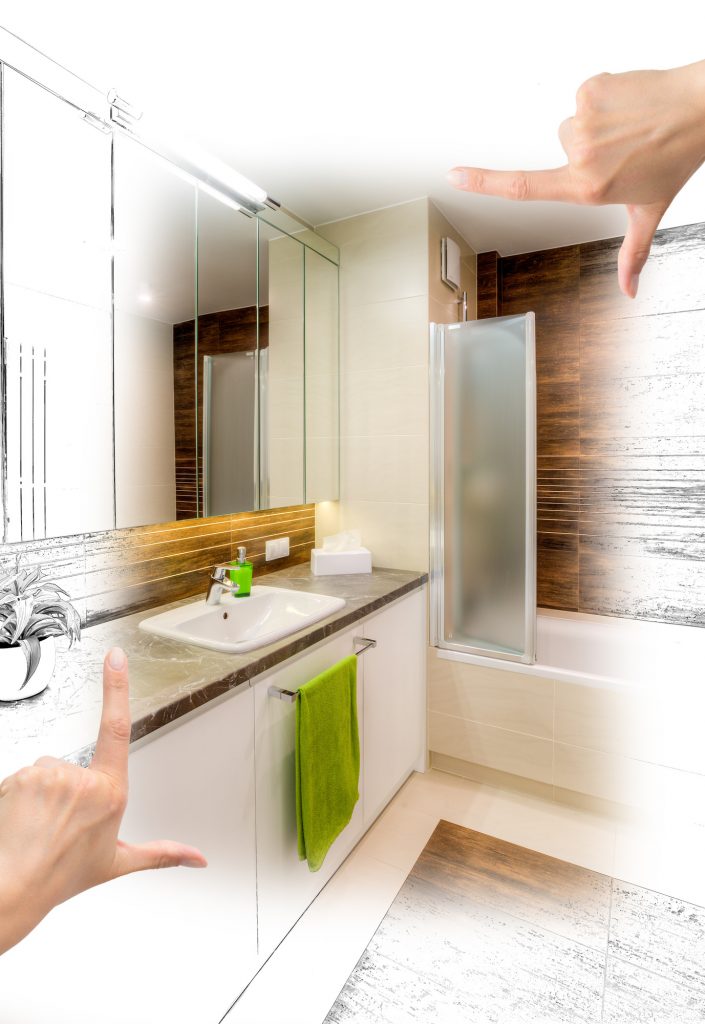 Are you gearing up for a bathroom remodel?
A bathroom renovation is one of the most popular home improvement projects. Unfortunately, it can also be expensive. With so many materials and fixtures, you can easily run up a high bill if you're not careful. 
But this project doesn't have to be overwhelming or stressful. We want you to be excited about your new bathroom and do whatever possible to stay on budget. You can get your dream bathroom without spending your life savings. 
Read on for some survival tips for how to remodel a bathroom on a budget.
Make a Plan and Stick to It
It may sound counterintuitive, but if you're not familiar with the remodel process, working with an interior decorator or architect can help you save money in the long run. Yes, you'll have to pay their fees and that's an added expense, but they will help you stick to a plan and a budget which can be invaluable. 
A designer or architect can work with you to figure out the best approach to the remodel and how to do it in a cost-effective manner. They'll also have access to vendors where they can likely get discounts on materials and even labor. 
They'll be able to give you options along with the pricing so you can make the most informed, budget conscious decision. Many times when people work with an architect or designer they become aware of options they didn't even know existed and would not have found on their own. 
Construction can be a lengthy process and once it begins, you can find issues you weren't expecting. A professional can help you troubleshoot these problems and stay on track so you come in on budget and on time. 
Don't Relocate Plumbing 
Moving plumbing fixtures like toilets, sinks, and baths can be a huge expense. It's a much bigger undertaking than simply replacing the materials you have in your bathroom with new ones. You're reconfiguring the layout of your bathroom and workers will have to do this from the inside out. 
Going into the walls and relaying or redirecting pipes can be more disruptive to your project that you were planning.
Figure out a way to accomplish the look you want without relocating major plumbing appliances. This way you don't have to cut corners when it comes to the finishes you want and you won't blow your budget on things you can't see! 
Keep Some of the Good Stuff
If you live in an older home, take a visual inventory of the items in your bathroom that may be worth keeping around. Do you have cool vintage tile around your bathtub or shower? Does your vanity have a funky vibe that gives character to the space?
A bathroom remodel doesn't have to mean overhauling the entire thing. You can make some of those vintage pieces or statements feel fresh just by changing the area around it. 
Don't Go Crazy on Tile
No matter how you cut it, tile is expensive. Not only are you paying for the tile itself which can get very pricey, but you're paying for the labor to install it carefully. Try to limit the amount of tile you use in your new bathroom and find other materials instead. 
You don't need your bathroom tile to be the center of attention. Try wood paneling on the walls and painting them a different color than the drywall to make them pop. 
Pick a couple of places you want to invest in the tile like the floor, the shower or bathtub walls. 
If you found a pricey piece of tile you absolutely can't live without, consider making it the accent piece in between less expensive and neutral pieces of tile.
Cut Back on Countertop Costs
If you're committed to purchasing a high-quality countertop, there are ways to do so without breaking the bank. First, try to avoid selecting a neutral color. These are the most popular and therefore typically priced higher since they're in high demand.
Selecting a color outside of this palette could save you some money. You can also select a slightly imperfect piece of marble, granite or quartz slab. This means the piece will have a mark or crack in it but it will be sold at a discounted price. 
If you can find a piece where the imperfection won't catch the eye, you may not even know it's there at all once it's installed.
A Little Paint Can Go a Long Way
If finances are limited, don't forget that a new coat of paint can reinvigorate your bathroom and make it look completely different. If you're worried about the cost of new countertops, flooring and more, try this approach first. 
If this is the only investment you're planning to make on your new bathroom, don't cut corners. You should hire a professional to do the job since it will involve getting around lots of small, detailed areas. 
Be sure to invest in a high-quality paint. Bathrooms are prone to moisture and mold, so cheaper, low-quality paint will be more susceptible to water damage. 
New Fixtures Are an Instant Facelift
Along with a fresh coat of paint, new fixtures are an easy and inexpensive way to upgrade your bathroom. The good thing about a bathroom is that there are so many fixtures! 
Not only can you replace faucets and handles but you can also replace towel racks, towel hooks, and light fixtures. It may sound minor but these subtle changes can have a big impact on the appearance of your bathroom. 
It's All in the Details
The details in your bathroom like the grout and caulking can give away its age and serve as a reminder it's in need of some TLC. Regardless of what renovations or upgrades you decide to do to your bathroom, don't overlook this area. 
These materials get mildew, water damage, rust and more. Grout and caulk are inexpensive materials and can be applied by a handyman or even by you. Cleaning up these lines in the bathroom and adding a little sparkle will make a big difference. 
Your bathroom will look refreshed and ultra clean. 
Refurbish 
If your home was built a long time ago, there is a pretty good chance you have some of the original tile or fixtures in your bathroom. If they look damaged or old, don't just toss them aside in favor of purchasing all new items. 
Some of these are antiques and can be refurbished to shine like new while still keeping a lot of the charm and integrity of the space. If the overall look of your home has a vintage, antique feel, keeping the bathroom in the same vein will make it work with the rest of the house.
There are companies who specialize in giving these pieces a second life and refurbishing them to their original glory. 
They can fix cracked or dirty tile on countertops, showers, and floors and restore your original bathtub without having to replace it. Going this route will save you money and you can focus on the things that really need replacing like that old sink and shower head. 
Consider Buying Used
You can purchase major and minor bathroom items used and save more money. Sites like Craigslist and eBay sell used toilets, bathtubs, mirrors, sinks, and fixtures that are in great shape and you'll always spend less than if you buy them new.
If you don't want to buy the major items used, you can also buy accessories like lighting, handles, towel racks and more. 
Lighting
Do you look like a completely different person in your bathroom mirror than in any other mirror in the house? This is probably because there's terrible lighting in your bathroom. Fix it!
Investing in some new lighting can not only change the appearance of your bathroom but also your experience there. No one likes bad lighting and spending time getting ready in a poorly lit space won't make you excited about a new bathroom.
Be sure there's plenty of lighting and your bathroom is bright. This will also make it seem fresh and bigger. You can find great lighting by scouring sales or at home improvement stores. 
If it's in the budget, you may want to consider putting in a skylight in the bathroom or adding in more windows for natural light. Windows will also help keep the bathroom dry and mold free so it serves two purposes. 
How to Remodel a Bathroom: Get Started Today!  
A bathroom remodel should be an exciting process and it doesn't have to cost you an arm and a leg. You can achieve the look you want and love your new space by utilizing some of the tips above to save money. 
The first step in how to remodel a bathroom is to create a budget and a plan so you know exactly what you're doing before you get started. This alleviates some stress and makes the whole experience less overwhelming. 
Check out the rest of our blog for more money saving tips! 
Anything to Add? Leave a Comment!