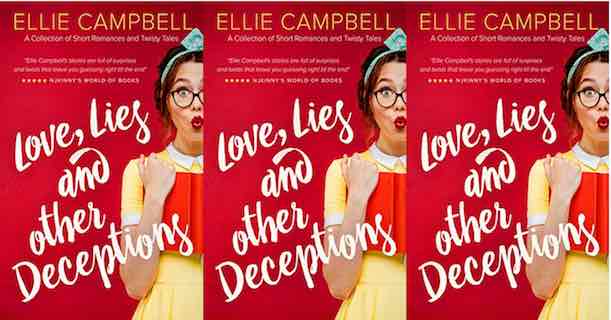 Calling all you book lovers! Add another title to your Kindle Library! Get Love, Lies and Other Deceptions: A Collection of Short Romances and Twisty Tales by Ellie Campbell for only $0.99! This is the best price we have ever seen for these award-winning short stories! Pick this up at this price while you can! It may not last long!
From the publisher:
.Love can be quite a trip. Whether it's that first magnetic encounter with a fascinating stranger, the desperate wait for a call that never comes, or even the lies and deceptions of an illicit affair, there's nothing like the power of attraction to have us acting like crazy fools. Many of these twenty funny, twist or thoughtful short tales by bestselling novelist Ellie Campbell (aka sisters Pam Burks and Lorraine Campbell), were first published internationally in top women's magazines like That's Life, Bella, Take a Break, Woman, Woman's Own and Chat. So grab a glass of wine, fasten your seatbelt and get ready for a bumpy ride along the rocky road to romance. It may be turbulent but it's still a whole lot of fun!
Anything to Add? Leave a Comment!