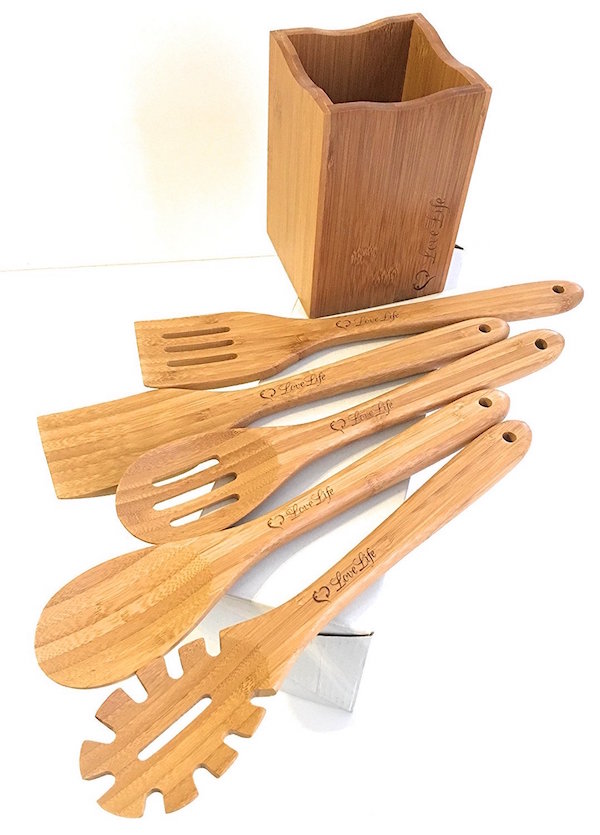 All kitchens need to have this SUPER SMOOTH Luxury 5 Piece Bamboo Utensil Set + FREE Holder-Ideal Gift-Box Included-Solid-Splinter Free-Eco Friendly-Ergonomic Design-Stylish-Unique Brand-Customer Satisfaction Guarantee! I love my set and can't wait for you to win it! Go now and see if you are the lucky winner! This giveaway ends Sunday April 2!
EASTER PROMOTION – see discount/promo code. LEADING QUALITY AND DESIGN: This strong and sturdy set embraces elegance, luxury and practicality. The combination of light weight, premium quality bamboo and the comfortable, easy grip means no tired hands from using thin and poor quality plastic or wooden utensils. This beautiful and classic set will be an asset to any kitchen and can only complement your décor.

SAFE, NATURAL & ECO-FRIENDLY: Bamboo is a plentiful and renewable product, which is completely non-toxic and incredibly safe on your kitchenware as well as kind to your hands. Organic and ideal for everyday use. These super smooth utensils won't scratch or splinter like cheap alternatives, and they certainly will not release any harmful toxins into the fresh meals you prepare for family and friends.

FREE & STYLISH STORAGE: The clean lines and symmetrical nature of the FREE holder present a neat, tidy and organized feel within your kitchen. Unlike some cute but petite holders, this large utensil holder has enough capacity to store some of your own kitchen utensils as well as the ones included within this set.

PERFECTLY SIZED: Each 12″ bamboo utensil makes easy work of any task, be it cooking, baking or serving. Due to the design they are ideal for kids as well, so get the whole family involved – both adults and children!

IDEAL GIFT: Smart and professional, a fantastic deal, this 5 star set would make a great gift for a loved one, budding baker or gourmet chef, house-warming or wedding, with a precious reminder to love life with every moment and every meal. White presentation box included. Superior quality AND gift worthy style is hard to find at under $10 a piece 🙂
Anything to Add? Leave a Comment!