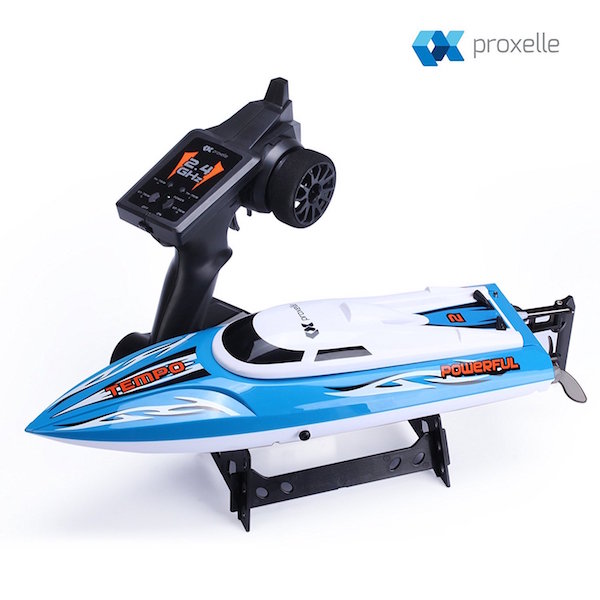 Now, this thing is going to be a blast to play with in the water!! Go now for your chance to win this High Speed Remote Control Boat – Super fast and easy to use – Built-in Water Cooling System and Auto Safe Mode Equipped w/ 2.4GHz RC Boat Technology.
READY TO RUN?: This RC speed boat is made for adventure on the high seas… And if you don't happen to be near the vicinity of a sea , then a pond, lake, swimming pool, or any other water body will work just fine. HydroBlast is perfect for racing, exploring, and just having fun whenever you're around water.

RACE YOUR FRIENDS: Get together with your friends and you're off! HydroBlast is equipped with 2.4GHz communication technology, plus a 492-foot transmission distance (which is equivalent to 1 ½ football fields!). Move forward and backward with ease – whether you're in a tight race with friends, or just using the boat on your own.

SWEET FEATURES: Propeller auto-safety mode ensures that your propeller turns on only when it's in water. The water cooling system helps extend motor life, making for a higher quality product. The self-righting design helps keep the boat from capsizing – and you don't have to worry about it getting stranded either, because the low battery alarm will sound when HydroBlast needs to recharge.

THE PERFECT GIFT: Surprise any kid, teen, or adult who's young at heart. HydroBlast is easy to operate for beginners and experienced users alike. Highly recommended toy ship for 14+ years boys and girls, men and women – anyone who loves a little splash of fun is going to enjoy this boat!

OUR PROMISE: We at Proxelle are all about making sure you get the absolute most out of your shopping experience with us. The satisfaction of our customers reflects in our reviews and ratings, which is something we treat as the highest priority.
Anything to Add? Leave a Comment!