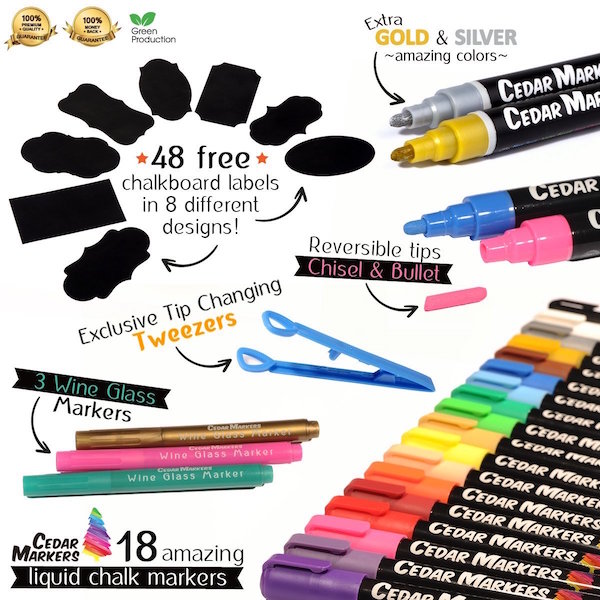 Get ready to add a little bit of pizzazz and flair to your already organized life! Enter now for your chance to INSTANTLY WIN this Cedar Markers Liquid Chalk Markers from Amazon Bouncy Box!
PLEASE BE ADVISED – Our chalk markers work perfectly with bright and vivid colors on ALL non-porous surfaces. SOME CHALKBOARDS MAY NOT BE SUITABLE FOR THE USE OF CHALK MARKERS, so it's recommended to try them first on small areas and always follow the cleaning instructions provided, especially when using Gold, Silver and Black markers. CHALK MARKERS DO NOT COME OFF CHALK PAINT.

AMAZING NEON COLORS – Cedar Markers liquid chalk markers use unique ink that brings colors to life. Our fluorescent colors will spark your creativity. Perfect for use on Menu Boards, Chalkboard Labels, Chalkboard Paper, Bistro Boards, House Windows, Car Windows, Glossy Boards, Mirrors, Plastic, Metal and more. Cedar Markers is an Amazon registered brand. Be sure you are buying from an authorized seller.

EASY CLEAN UP – When using on all the recommended surfaces, the markers can be erased easily by wiping the area with a damp cloth or paper towel. With Gold and Silver colors, we advise the use of a dry paper towel as well.

EXCLUSIVE – We are the first and only brand to give you a free set of tweezers so you can change the tip without getting ink all over your fingers. We also have a brand new revolutionary cap that keeps the tips from getting damaged over time.

AMAZING BONUS – Cedar Markers is giving you the best offer you have ever seen: Ab 18 markers pack with our extraordinary Gold and Silver colors and the BONUS of 40 CHALKBOARD LABELS and 3 Wine Glass Markers for FREE. Order now and get a 30 days money back guarantee
Anything to Add? Leave a Comment!