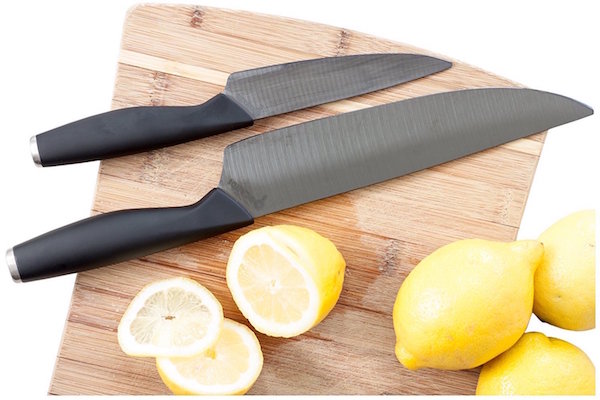 I love cooking and nothing is worse than having a dull knife! Have you ever used a ceramic knife before? Now is your chance to win this SCANDI Ceramic Lead-free Sharp Knife Set. Practical 8 inch & 5-inch Unique Size Chef Knives Set. Black Blades with Fitted Sheaths in Gift Box! If you don't want to try your luck to win, then you can buy it right now for $38!
MORE IS NOT BETTER. SCANDI set contains practical right sized knives so they will be your go to knives everyday. 8" chef knife is an absolute must have in the kitchen, big enough blades to handle almost any slicing/dicing. No more struggling with smaller 6" blades. SCANDI 5" knife is versatile for both paring and handling small fruits/vegetables. There is no need to crowd your kitchen with more knives than you need.

SAY BYE TO FRUSTRATING FOOD PREPARATION OR PAINFUL ATHRITIC JOINTS. Having problems slicing tomatoes or onions? SCANDI ceramic knives are manufactured with blades at precise convex angle, giving extremely sharp edge. They make almost any slicing/cutting effortless and more efficient. No more messy clean ups from spattering tomato pulp or aching arms after slicing the fifth onion. No more additional effort to grip on to wet handle. SCANDI ceramic knives will change your cooking experience.

THIS WILL BE YOUR BEST INVESTMENT FOR YEARS. The problem with stainless steel knives is it gets dull easily (that's what keeps it stainless). As a result, you need to sharpen it weekly or even daily. Ceramic does not rust (even stainless steel knives rust!) and SCANDI ceramic knives are produced with cold isostatic processing, keeping the blades durably sharp. Used with care, the edge will stay sharp so you can leave sharpening out of your schedule for years.

PERFECT GIFT FOR COOKING ENTHUSIASTS. This black ceramic knife set comes packaged in an elegant gift box, making it a highly presentable gift to anyone into cooking. Bestow your mum, your wife, your dad, your hubby, your siblings, newly weds, new kitchen owners with this practical and quality knife set and they will thank you for such a thoughtful gift. Knife set comes complete with safety sheaths for safe storage in drawers.

TRY THIS RISK-FREE TO CONVINCE YOURSELF. Customer satisfaction is our top priority and we promise 100% satisfaction or 30-day money back guarantee.
Anything to Add? Leave a Comment!