Don't you love the vintage look of these tea cup candles?  The good news is that you can make them yourself!! Consider giving these as a gift, decorating your home, or decorating a wedding shower.  They are easy to make and pretty to look at.   Scroll down for the easy DIY instructions!!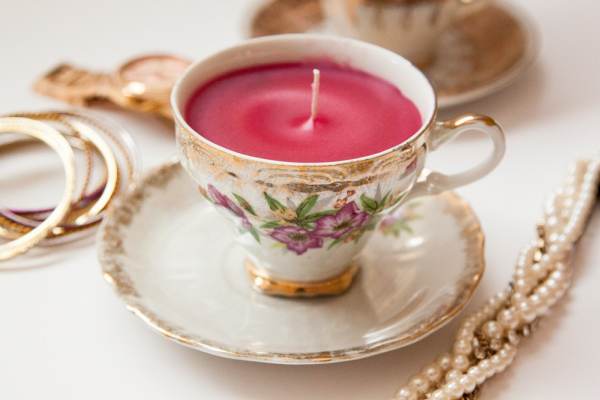 DIY Teacup Candles
Supplies:
Vintage teacups
Colored Granulated Wax (or soy wax flakes)
Candle Wicks
Skewers
Optional: Candle scent
Directions:
1. Make sure the teacups are totally clean!
2. Set one wick in the center of the teacup. Keep steady by pinching the wick in place with the skewers. You can use tape to keep the skewers together to keep them from moving, but it isn't necessary.
3. Using a double boiler, melt the wax until liquid. If you are using any special candle scents, pour in a few drops right before moving on to the next step.
4. Immediately pour into the teacup and fill to the top. You will want to leave 1/4″ – 1/8″ at the top. Make sure you don't get any on the wick!
5. Wait for the candles to solidify. This will take a few hours.
6. Trim the wick at the top to about 1/4″.
Alternative Directions:
If you are using granulated wax, you don't need to do any melting! This is a great option if you've never made candles before or don't feel comfortable melting wax and pouring it into candles. All you need to do is set the wick in the center of the teacup and pour the granulated wax all around it. That's it! The wax will melt when the candle is lit.
Thanks, thesassylife!
Anything to Add? Leave a Comment!