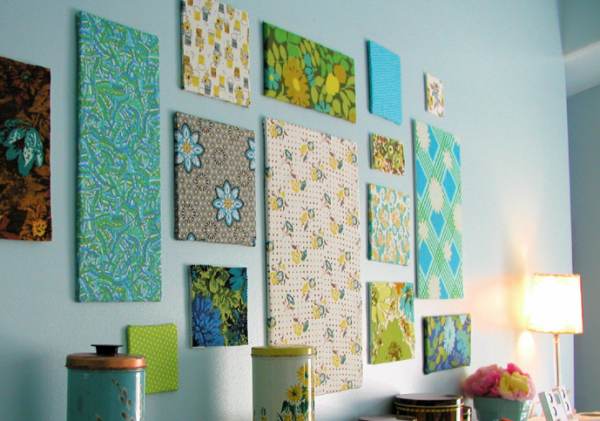 This is such great use of old fabric!! This idea would be so cute in a quilting room, in a baby's nursery or in your child's room.  Where else could you do a panel of fabric on a wall? Scroll down to see the instructions to this wonderful, super easy DIY!
foam core
double stick tape (I like poster tape especially or ones available for scrapbookers)
Instructions:
Cut your foam core to accommodate the piece of fabric that you are using.
Make sure you have about 1″ to 1 1/2″ of fabric to fold over to the backside.
Place the double stick along the edges of the foam core,
Gently pull the fabric over each corner and press down onto the tape, and then working from opposite sides, gently pull taut the fabric along the sides and press down onto the tape.
If you don't want to wrap the fabric around (or there just isn't enough fabric to do it) then put the double stick tape along the edges on the front and press your fabric on.
You might need to neaten the edges a bit.
Hang your fabric panels with wall putty!
There's actually a ton of stuff that would be fun to do using this method. If anyone gives it a try let me know, I'd love to see!
Anything to Add? Leave a Comment!