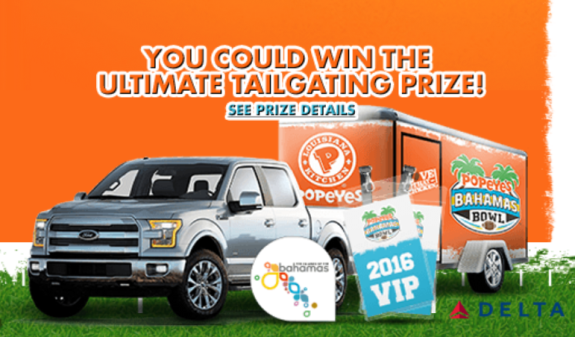 Enter DAILY for a chance to win Popeyes MVP Bundle Instant Win Game
YOU DO NOT NEED A CODE TO PLAY THE INSTANT WIN GAME!!!
You only need a code for the sweepstakes. You can get a free code below.
Mail-In Free Code Request (available from November 6, 2015 to January 5, 2016):
To request a Code, mail a 3″x5″ piece of paper with your name, home mailing address, email address, day/evening phone numbers, and date of birth in an envelope with proper postage to:
"Popeyes® MVP Bundle Sweepstakes–Free Code Request,"
P.O. Box 5992, Dept. 822221
Kalamazoo, MI 49003-5992
All requests must be postmarked by January 6, 2016and received by January 13, 2016. You will receive a Code via automated emailand you may use it to unlock and enter the applicable Sweepstakesand vote. Limit: 1 request per envelopeand up to 7 Codes total per person. All requests must be hand printed and become the exclusive property of the Sponsor. None will be acknowledged or returned. Proof of sending will not be deemed to be proof of receipt by the Sponsor.
For USA only and ends on January 15, 2016
PRIZES:
Instant Win Game Prizes:
100 ATHLETIC APPAREL PRIZES: A digital gift certificate that may be used to purchase athletic apparel at Sponsor's choice of online apparel site, terms and conditions apply. ARV: $50.
100 GIFT BASKET PRIZES: A TABASCO® gift basket including TABASCO® products and
merchandise. ARV: $32.
100 TUMBLER PRIZES: A Bahamas Bowl Tumbler. ARV: $20.
100POPEYES FOOD PRIZES: A $10 prepaid gift card that may be used to purchase
Popeyes food and beverages, terms and conditions apply. ARV: $10.
1 GRAND PRIZE: Winner's choice of his or her preferred model of an all-new 2016 Ford® Truck (up to $30,000) and a tailgate party trailer. ARV: $45,000.
Anything to Add? Leave a Comment!