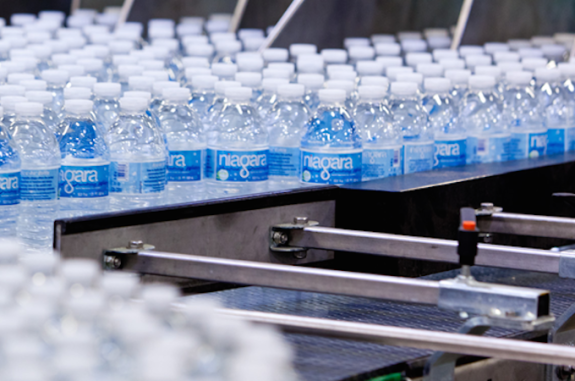 If you've got bottled water in the fridge or pantry, you might want to check if it's included in a recent recall of several brands under the Niagara umbrella, after the company issued a voluntary recall for all spring water products produced from its Pennsylvania manufacturing facilities between June 10-18.
Niagara says the spring source for its water was potentially compromised and contaminated with E. coli. There haven't been any reports of illness or injury related to the products, the company says, "and finished product testing detected no contaminants or issues of any kind."
But because the spring source didn't notify Niagara "in a timely manner," the company says, it's issuing the recall out of an overabundance of caution and will not be using the source from here on.
Here's a list of the affected brands:
• Acadia
• Best Yet
• Nature's Place
• Shaws
• Acme
• 7-11
• Pricerite
• Shoprite
• Big Y
• Niagara
• Superchill
• Western Beef Blue
• Morning Fresh
• Wegman's
To check if your product is affected, Niagara tells customers to check the code on the products: The only affected products have codes that begin with the letter F (for Hamburg) or A (for Allentown), where the products were produced.
The first digit after the letter indicates the number of the production line. The next two numbers indicate the day, then the month in letters, the year, and then the time, based on a 24-hour clock.
Example: A610JUN15 2000
Niagara cautions consumers not to drink the affected water without boiling it first, or use other bottled water.
For more information, contact: Niagara Bottling, LLC Consumer Service at (877) 487-7873
See also this chart with exact information on the recalled products.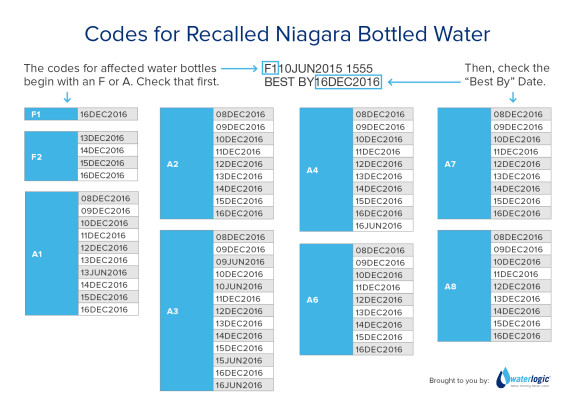 Anything to Add? Leave a Comment!