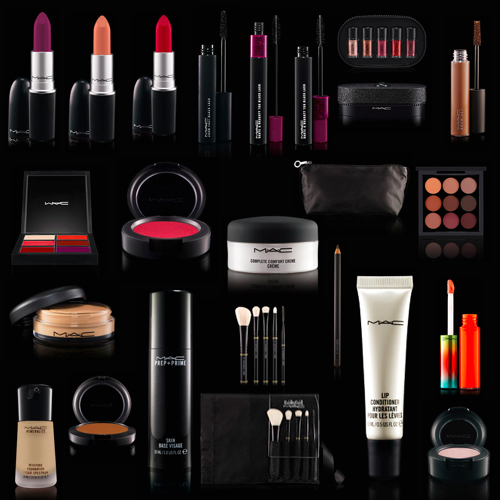 Enter The Skinny Teatox Giveaway, and WIN $1,000 of MAC Cosmetics!!!
Win a HUGE amount of MAC Cosmetics. Plus you'll also receive our entire Skinny Teatox product line!
Enter for free by performing the actions as stated on the the Skinny Teatox site – the more actions you complete, the more ballots you receive and the higher the odds of winning!
Note: Prize not depicted in image. You actually win a lot more than in the picture & you can choose your colors and shades.
You'll receive the following MAC Cosmetics & Skinny Teatox products:
-Veluxe Pearlfusion Shadow ($25)
-Eye Shadow ($16)
-3 Lipsticks of your choice ($48)
-2 Tinted Lip Gloss' of your choice ($32)
-2 Powdered Blushes of your choice ($44)
-Haute & Naughty Too Black Lash ($22)
-Objects of Affections Face Kit ($35)
-Prep & Prime Skin Primer ($30)
-MAC Studio Concealer Set ($40)
-Mineralize Moisture SPF 15 Foundation ($35)
-Full Coverage Foundation ($32)
-Eye Shadow 9 Colours Kit ($40)
-Eye Pencil ($16)
-Liquidlast Eye Liner ($20)
-Zoom Fast Black Lash Mascara ($17)
-Eye Brow Set ($17)
-MAC Trend Forecast 15 Lip Kit ($40)
-Lip Conditioner ($15)
-Professional Lip Erase ($20)
-Wash & Dry Tinted Lip Glass ($16.50)
-Complete Comfort Cream Moisturizer ($33)
-MAC Brush Kit By Babydoll ($50)
-Large Softsac Makeup Bag ($42)
-The Entire Skinny Teatox Product Line ($500)
Cut-off time for entry is 7:59 p.m. on 2015-05-24
Anything to Add? Leave a Comment!