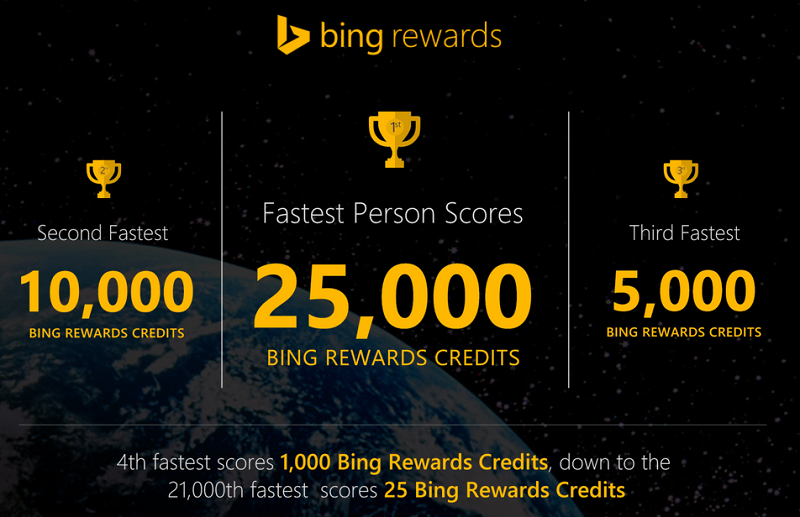 You can win FREE One Million Bing Rewards Credits Giveaway!
They are giving away over One million Bing Rewards credits are up for grabs but only the fastest 20,000+ players will score big. Top spot gets a whopping 25,000 credits and a one-way ticket to gift card paradise. Get your trigger finger ready because these rewards can be released at any moment.
Just click the 'I Want In' button to be notified when the fun begins.
Go register now! You can SIGN UP HERE and they will text you before it goes live! You will get a WARNING text 3 minutes prior to it going live!
Not a Bing Rewards Member then JOIN HERE for FREE
PRIZES:
Fastest person: One (1) 25,000 Bing Rewards credits
2nd fastest person: One (1) 10,000 Bing Rewards credits
3rd fastest person: One (1) 5,000 Bing Rewards credits
4th fastest to 103rd fastest person: One thousand (1,000) Bing Rewards credits
104th fastest to 354th fastest person: Five hundred (500) Bing Rewards credits
355th fastest to 605th fastest person: One hundred (100) Bing Rewards credits
606th fastest to 8,606th fastest person: Fifty (50) Bing Rewards credits
8,607th fastest to 21,007th fastest person: Twenty Five (25) Bing Rewards credits
Credits are awarded in the form of a Bing Rewards promo code. Code expires 3/31/2015.
Anything to Add? Leave a Comment!