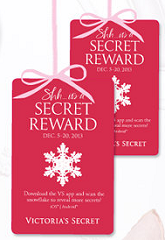 You can get a FREE Victoria's Secret Secret Reward Card Code without making a purchase good from November 20, 2014 to December 3, 2014.
Just send an email to [email protected] and you will receive one (1) Secret Reward Card Code via email.
Limit: One (1) request per email but limit 60 per person.
You will receive a code that gives you $10 off $30 purchase, $10 off $10 purchase, $50 off $50 Purchase, $100 off $100 purchase or $500 off $500 purchase
Anything to Add? Leave a Comment!