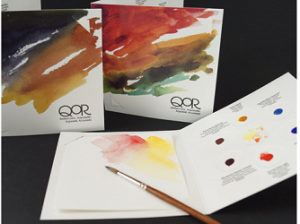 Request a FREE QoR Watercolor Samples
Both USA and Canada residents can request this sample. Please allow 4-6 weeks for delivery.
Choose from 1 of 3 color samples:
Introductory Colors Card
Featuring: Indian Yellow, Cerulean Blue Chromium, Permanent Alizarin Crimson, Pyrrole Red Light, Ultramarine Blue
Earth Colors Card
Featuring: Naples Yellow, Transparent Brown Oxide, Ardoise Gray, Indigo, Sap Green, Venetian Red
High Chroma Colors Card
Featuring: Cobalt Teal, Green Gold, Dioxazine Purple, Quinacridone Magenta, Quinacridone Gold, Transparent Pyrrole Orange
Anything to Add? Leave a Comment!