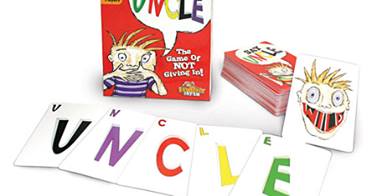 Enter for a chance to win FREE Say Uncle Game Friday at Fat Brain Toys!
MOBILE USERS copy/paste this url into your browser: https://www.facebook.com/fatbraintoys/app_265836276779761
Today's free game is Say Uncle! In this cunning, strategic and downright fun-to-play card game, players force their opponents to spell the world "U-N-C-L-E" using cards in the deck while attempting to get rid of the same letters played on themselves!
Just fill out the short form to enter!
You must be 21 years old and GOOD LUCK!
Anything to Add? Leave a Comment!