This post brought to you by Sam's Club. All opinions are 100% mine.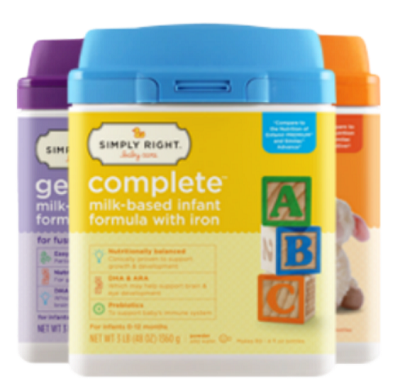 I loved bonding with my sons and holding them while I bottlefed them was a great time to unwind and just sit still for awhile. Fixing a bottle in the middle of the night doesn't seem so fun especially if you are still half asleep. I remember many times dozing off while feeding my son but I would still never trade those times for anything. They pass all too quickly.
You can get SIMPLY RIGHT™ Infant Formula at your local Sam's Club and it has three varieties. You can get Whether it is the Baby Care Gentle®, Baby Care Complete®, or Baby Care Sensitivity® SIMPLY RIGHT™. It is good to know that SIMPLY RIGHT™ Infant Formulas are Clinically proven to support growth and development, now with Lutein for brain and eye health! I know that would give me peace of mind to ensure my baby was getting all the best nutrients for proper growth and development.
What is really great about SIMPLY RIGHT™ Infant Formula is the scoop holder and leveler so no more guesses and it stays inside the container. The container has an easy open top which is great as who wants to fumble around trying to open a top in the middle of the night to make a bottle. The container is great for traveling and will keep the formula fresher longer.
SIMPLY RIGHT™ Infant Formula is very affordable which is another huge bonus. Use the savings calculator to see how much you can save per year compared to other formulas. I could save over $555 a year which is a great savings. What could you do with an extra $550 per year?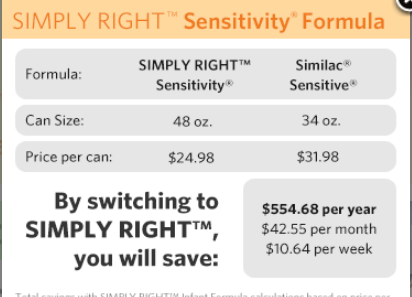 Learn more about SIMPLY RIGHT™ Infant Formula by watching the video below.
Anything to Add? Leave a Comment!