Who doesn't love prizes? This giveaway is a little different as you get to choose 3 prizes to deposit into your Pattern Handbag which you also get to choose! I have 6 prizes listed below and you pick which 3 you want to receive if you win the giveaway and you also get the NEW Pattern Handbag to put them into! How fun is that?!! It gives you more choices over what prizes you want! So what are you waiting for? Let's get started!
AFTER You pick your goodies then HOP OVER HERE to CHOOSE YOUR PATTERN HANDBAG
Here is a picture of 6 prizes!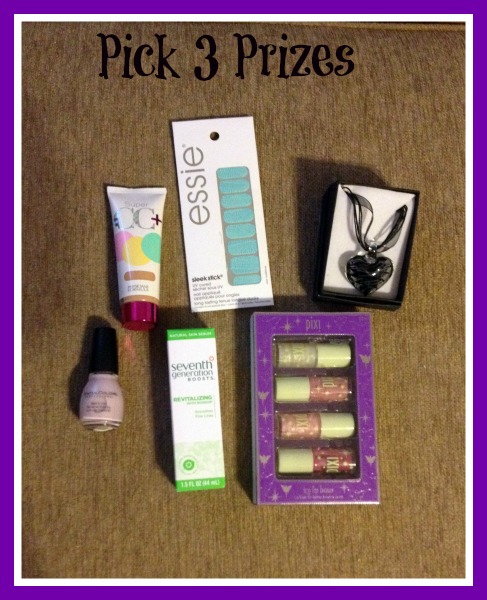 1) Physician's Formula CC+ Cream in Light to Medium
2) Essie nail covers in blue pattern
3) Glass Black Heart with Ribbon Fashion Necklace
4) Sinful Colors Nail Polish in Cupids Arrow (lilac color)
5) Seventh Generation Boosts Revitalizing with Rosehip Smoothing Cream (full size)
6) Pixi Icy lip luster 4pack (Snowbunny Glace)
NOW that you have finished HEAD OVER HERE to CHOOSE YOUR PATTERN HANDBAG
You have to hop to the next page to enter!
Anything to Add? Leave a Comment!