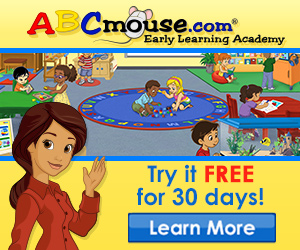 Get a FREE Trial of ABC Mouse Learning Program for 30 Days!
The Step-by-Step Learning Path presents the full ABCmouse.com curriculum in a carefully designed program of more than 450 lessons in six levels. As your child completes each lesson, he or she is guided to the next one and is motivated to continue learning by ABCmouse.com's Tickets and Rewards System.
First month free. $7.95/ month after first month. You do have to enter a credit card for trial but cancel before 30 days is up so you don't get charged.
Anything to Add? Leave a Comment!