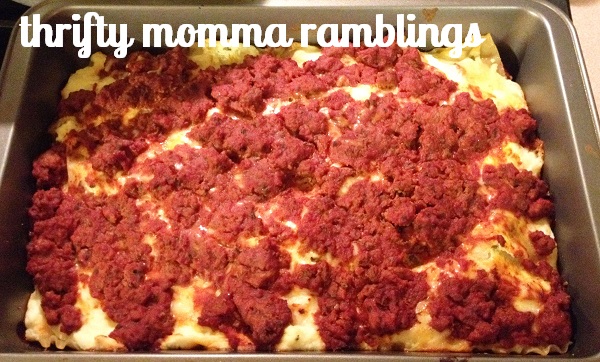 Here is a Classic Italian Style Cheesy Lasagna Recipe that my mom used when I was a kid. So now it's my turn to bring this delicious and simple recipe for my family.
The entire family gobbles this one up and I double the ingredients to make 2 of them. One to eat the same night and one to freeze for a night I don't want to cook. Just take it out and thaw in the fridge for about 10-12 hours and then pop into the oven. Super easy.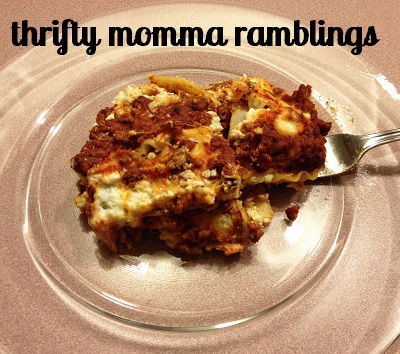 Ingredients for Meat Sauce:
1 pound ground meat or Italian Sausage
30oz of Tomato Sauce
1 8oz Can of Tomato Paste
1tsp Oregano
1tsp Basil
1tsp Parsley Flakes
1/2 tsp Garlic Powder
Ingredients for Cheese Filling:
1 15oz container of Ricotta Cheese
1/4 cup Parmesan Cheese (I grate by hand)
1 tbs Parsley Flakes
1 egg beaten
2 cups of Shredded Mozzerella Cheese
1 Package of Lasagna Noodles
Remember to double everything if you want to make 2 lasagnas.
First I brown the ground meat and drain out the fat. I then add 60oz of tomato sauce, 2 cans of tomato paste, and the seasonings and simmer on low heat for 30 minutes. Preheat the oven to 350 degrees. While that is simmering, then I cook the noodles. Once the noodles are boiling I make the cheese filling. Add the 32 oz container of Ricotta to 2 beaten eggs in a medium sized bowl. I hand grate 1/2 cups of Parmesan Cheese and add the parsley. Once it's all mixed up, I put it to the side. Once the noodles are drained and cooling off, I make an assembly line to make the 2 lasagnas. The mozerella cheese is in it's package. I use 9×13 glass casserole dishes or pans. I prefer glass for more even cooking.
I take 4 noodles to make the first layer, then add the cheese filling which is kind of like frosting a cake. Then I add a layer of the mozerella cheese and top it off with meat sauce layer. Then repeat and I can usually get 2 nice layers. Then bake uncovered for 30-40 minutes at 350 degrees and should be bubbling when done. Slice and enjoy. I cut them into squares.
Anything to Add? Leave a Comment!