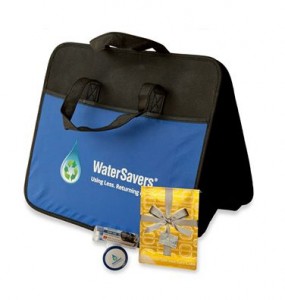 Summer is a great time to be outside. During the summer we see a lot more people washing their cars, fundraisers to wash cars, or washing their driveways and houses. The problem then becomes one of dirty water entering storm drains from pavement washing which does not undergo treatment before it is discharged. Did you know that a study by the City of Federal Way, Wash., found that residential car washing led to numerous pollutants being released each year into their storm sewer system, including 190 gallons of gasoline, diesel and motor oil; 400 pounds of phosphorus and nitrogen; and 60 pounds of ammonia. WOW! That is crazy.
WaterSavers®  is a consumer awareness campaign from the International Carwash Association® (ICA) and has teamed up with me and some great bloggers to help pass along some information about the environmental benefits of washing your car at a professional carwash.
You may be surprised to learn that professional car washes are typically a much greener option for washing vehicles than washing your car in the driveway at home. Washing at home with a garden hose can use more than 60 gallons in as little as five minutes, but most professional car washes treat and recycle water, virtually eliminating waste. The average homeowner uses 116 gallons of water to wash a car, according to the Mid-America Regional Council, and most commercial car washes use 60 percent less water for the entire process than a homeowner uses just to rinse the car.
WaterSavers professional car washes use only 40 gallons or less of fresh water per car wash which is less than the typical home washing machine uses per load. The process cleans and re-uses the water for future car washes, or it undergoes treatment prior to returning it clean to the environment. For more information and to find a certified location near you, visit WashWithWaterSavers.com This summer, instead of grabbing a bucket and hose, take your car to a local professional car wash to help save water, protect aquatic life and preserve the environment.
Watersavers is generously sponsoring this great giveaway! One lucky giveaway winner will receive this prize pack!
Prize Pack Includes:
Branded USB Car Charger
Pop-Up Trunk Organizer
Car Vent Clip
$20 VISA Gift Card
Enter the giveaway below and for USA only residents and ends on Sunday 8/11/2013 at 11:59PM EST! Good Luck!
Disclosure Statement: I am working with the International Carwash Association to share these tips for conserving water. I received the same prize pack as the winner will receive, but all opinions are 100% MINE and did not receive any monetary compensation.
Anything to Add? Leave a Comment!