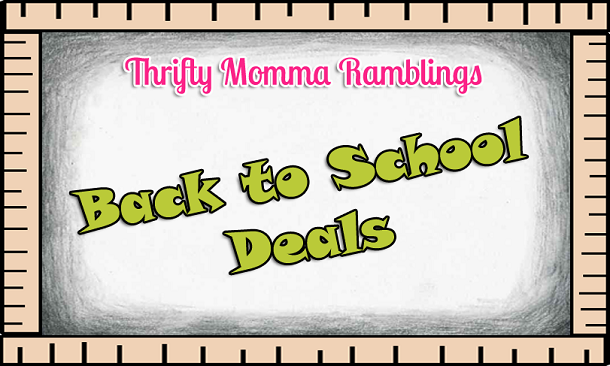 Thrifty Momma Ramblings Back To School Deals 2013!
Here are the Back To School Deals! It is that time of year again when we have to start looking for the best deals on school supplies! Many kids will be going back to school in early August like mine so now is a great time to start stocking up on those essentials. I also love to stock up on items to keep around the house like ink pens, pencils, crayons, glue and such! You can never have enough of these items especially when the teacher is sending home a note in January asking for more supplies. It does happen to me. I refuse to pay full price so I keep many of these items in a container for those emergencies.
I will post the best back to school deals on school related sales, uniforms, shoes, backpacks, and even for college! Many kids are going away for college and will now need basic toiletries like toothbrushes, toothpastes, body wash, shampoo, and more! Now is the time to teach them money isn't growing off of trees and time to learn how to coupon and save more money off these basic items. I know I will teach mine how to stockpile for good sales too. I do realize they are limited in space but they can still stock up with a few items and keep in a plastic container under the bed.
I will also post some great thrifty tips to help you get prepared for school and the bigger kids for college. Tips on saving time, organization, and more! I really love this time of year, but it also reminds me how close we are to Christmas! GASP!
Check out the Back to School Tax Free 2013 List Here!
Anything to Add? Leave a Comment!