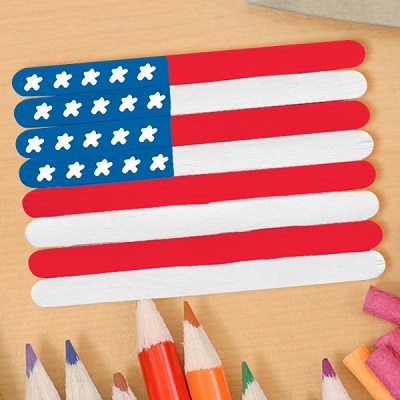 Make a Fun 4th of July Popsicle Stick Craft! I found this great craft on Popsicle® Newsletter
This festive flag is a whole new way to wear red, white and blue. Get creative — anything's possible with Popsicle®!
(First 2 steps are optional) as you could use craft sticks.
HOW TO MAKE IT
Step 1: Eat 8 delicious Popsicle® pops (yum!).
Step 2: Laugh at all the jokes on the Popsicle® sticks!
Step 3: Paint 4 of the Popsicle® sticks red, 4 of them white and 2 of them blue. Let dry.
Step 4: Cut the blue Popsicle® sticks in half.
Step 5: Arrange the Popsicle® sticks in a rectangle and glue together, layering the blue sticks on top in the left-hand corner.
Step 6: Cut star shapes out of white paper, glue onto sticks, and let dry.
Anything to Add? Leave a Comment!