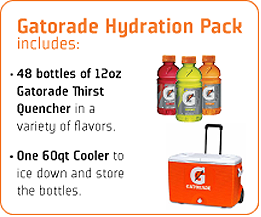 If you are a Little League Coach or know one then get this Freebie!
Request a FREE 48 Bottles of Gatorade & Cooler
The League Name is required!
Note: We have a limited number of Gatorade Hydration Packs available. This offer expires on the first to occur of July 13, 2013 or when all the Gatorade Hydration Packs have been claimed. Only one Gatorade Hydration Pack per team.
Anything to Add? Leave a Comment!