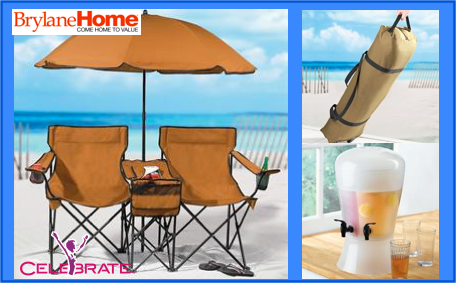 BrylaneHome Outdoor Furniture Giveaway
May 27 – June 1, 2013
Open to US

Bringing You Moments To Celebrate
Sponsored by BrylaneHome
Organized by Celebrate Woman Today who votes for Summer Bliss

I know I could definitely use this fabulous prize for outdoors. It would also be great for the beach or have your own little staycation with this great outdoor set!
BrylaneHome is one of the places that brings home ambiance in a variety of ways with a wide variety of durable outdoor furniture to choose from.
We would love you to enjoy your summer time with your family and friends with added comfort and reassurance that you deserve every bit of it!
If you love lemonades and cold drinks and are creative to offer more than one at a time, then you sure would appreciate this Divided Drink Dispenser. It comes with a separate ice compartment to avoid any dilution of your favorite drink. With a 3-gallon of refreshing goodness you would be all set up for a long day of barbequing or picnic.
One more feature for this awesome drink holder is that you could still serve your favorite drink in abundance by removing a separation shield within the dispenser, making it a one-drink option.
To add to the comfort zone of your summer bliss, you'd be happy to haul along this 5-piece beach set with convenience and chick. Two people under a huge umbrella and insulated cooler in between would surely stay and enjoy outside with added comfort. This would be an amazing prize to have for the beach or my backyard!
Are you ready to enter your chances to take these prizes home? Please do.
Prize – Divided Drink Dispenser + Beach Set With Umbrella & Cooler, $175 Value
Anything to Add? Leave a Comment!