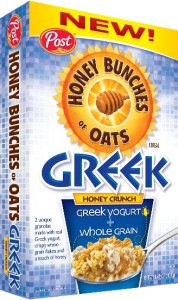 It's hard to find a cereal that the whole family can enjoy including my son who is my pickiest eater. I also want to make sure we can all start our day right with a good breakfast that we will all enjoy. We are all so busy that it's hard to find time to eat together as a family. I was thrilled when I was able to try a box of the NEW Honey Bunches of Oats Greek Honey Crunch cereal!
It is made with granola and Greek yogurt plus whole grain flakes and a touch of honey. My husband and son loved this cereal so much that it is our new staple in this house. I was really worried that my son would make a face since it's a good-for-you cereal but he actually does! I love that it's made with real Greek yogurt which makes it even tastier. It has 33 grams of whole Grains per bowl!
If you want to learn more then you can follow Honey Bunches of Oats Facebook Page!
Let me know if you have tried the New Honey Bunches of Oats Greek Honey Crunch Cereal? If so then let me know what you thought.
Disclaimer: I am part of the Mom It Forward blogger network. Mom It Forward and Honey Bunches of Oats partnered in support of this campaign. Honey Bunches of Oats compensated me for participation in this campaign. However, all thoughts and opinions are my own.
Anything to Add? Leave a Comment!