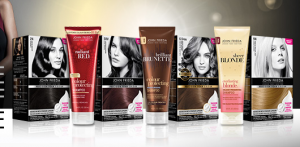 You can get a FREE John Frieda Shampoo or Conditioner Product Coupon!!!
You do have to register a John Fridea Precision Color Foam product to get the free coupon.
If you do not have a UPC code then try some of these below:
4R Radiant Red Dark Red Brown 717226162022
5B Brilliant Brunette Medium Chocolate Brown 717226161995
5G Brilliant Brunette Medium Golden Brown 717226162008
4BG Brilliant Brunette Dark Chocolate Brown 717226162039
7G Sheer Blonde Dark Golden Blonde 717226161940
8N Sheer Blonde Medium Natural Blonde 717226161933
Please allow 6-8 weeks for delivery! Enjoy.
Anything to Add? Leave a Comment!