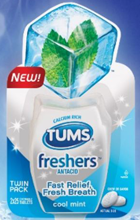 This is a new offer! You can currently snag a FREE TUMS Freshers Sample!
You must copy/paste the url into your browser.
http://www.startsampling.com/sm/recharge102589/
Just fill out the short form and your sample will arrive within 6 weeks!
Let me know if you get one! Enjoy.
Anything to Add? Leave a Comment!