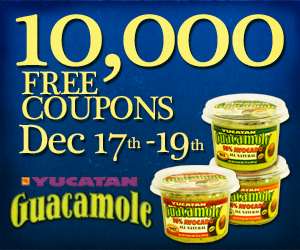 Hurry and print out this FREE Yucatan Guacamole Product printable coupon!
Just "LIKE" their Facebook Page and print out a coupon for a FREE Yucatan Guacamole Product!!!
Hurry as these are only to the first 3,333 people each day through 12/19.
Here's a list of places you can find Yucatan Guacamole!
*Remember, some stores do not take internet printable coupons for FREE Products. Make sure you check with your store coupon policy before redeeming this coupon.
Southeast: •Publix •Kroger /ATL •Wal*Mart
Northeast •Giant •Assoc.Grocers •Weis •Mejer •Whole Foods •Wal*Mart
Midwest •Cub Foods •Kroger/MI •Spartan •Kroger •Wal*Mart •Royal Foods, Inc •Wal*Mart
South Central •HEB •Affiliated •Wal*Mart •Kroger
North Central •SuperValu •Schnuck's •Wal*Mart
Northwest •Haggens •QFC •Ralphs •Fred Meyer •Wal*Mart
Southwest •Ralphs •Albertsons/SuperValu •Smart N Final•Whole Foods •Wal*Mart •Gelson's
Desert *Smith's *King Sooper *AJ's *Wal*Mart *Fred Meyer *Fry's
Pacific •Food Land
Thanks Katie's Krazy Savings for list!
Anything to Add? Leave a Comment!