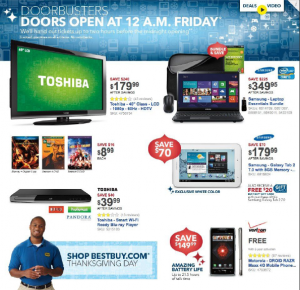 Here is the Best Buy Black Friday ad for 2012!

This is a PDF file! Thanks to Fat Wallet for the scan!
Doors will open at 12am and they will start handing out tickets 2 hours before the sale starts.
Best Buy will have some online only deals on Thanksgiving Day! I see a LG Blu-Ray DVD that has Wi-Fi streaming! That's one of my must haves for this year.
There are some great deals!
I see lots of Movies including Blu-Ray for $3.99! Lots of great deals on flat screen tv's. There is so much!
Anything to Add? Leave a Comment!