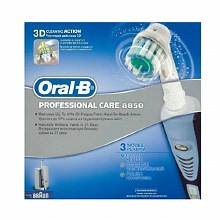 WOW! Check out this AMAZING deal on Oral-B Professional Care 8850 Rechargeable Power Toothbrush at Walgreens!
It's marked down to only $34.99 from $109.99!!!
Even better you can get an extra 15% off by using Coupon code 15THANKS making it $29.74 plus get FREE SHIPPING!
Don't forget to use Ebates to get 7% cash back
OR you could use Swagbucks to earn 10 bucks per dollar!
You will also earn 1,000 Bonus Points with every $25 purchase! So an extra $1.00 off!
Buy Oral-B Professional Care 8850 Rechargeable Power Toothbrush for $34.99
Use Code: 15THANKS to take off $5.25
Bonus Points: 1,000 ($1.00)
Final Price- $28.74 with FREE Shipping plus tax after code and points!
Swagbucks would earn you 274 (unless they give you total before discounts but I don't think they do)
Ebates would earn you $2.08 (after discount taken off)
**Coupon code 15THANKS valid up to 3 uses per customer thru December 1, 2012. Code must be entered at time of checkout to apply discount. Discount does not apply to electronics, diapers, formula, pharmacy or photo orders, gift card purchases, taxes or shipping charges. Code cannot be combined with other codes. Orders must be placed by December 1, 2012 at 11:59pm Central Time to qualify. Timing will be determined by Walgreens server clock. Offer valid online only.
Quick Note: This toothbrush DOES NOT qualify for the $15 Rebate! You can try if you want but does state excluded on the rebate form. The other Oral-B toothbrush deal on Walmart also DOES NOT qualify. Neither Oral-B website or Walmart's site shows you can get the rebate but they do put it on the models that do qualify. I read on several other bloggers saying you can get it on the Oral-B Professional 4000 series and it clearly states it's excluded on the form. Just an FYI!
Anything to Add? Leave a Comment!