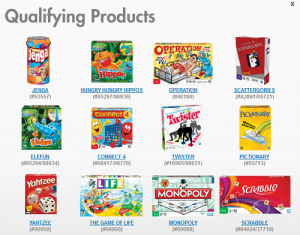 Hasbro has a rebate you can get up to $40 back if you buy all 12 games! You only have to buy just 2 games for $5 back!
There have been a couple of Hasbro coupons released that you can combine for 2 FREE GAMES!!!
Hasbro Rebate Details:
BUY any of the participating Hasbro® games from 11/1/12 through 12/25/12, and with proof of purchase for each product you will be eligible to receive money back in the form of a prepaid reward card. 2 games earns $5; 4 games earns $10; 6 games earns $15; 8 games earns $20; 10 games earns $30; 12 games earns $40.
MAIL-IN SUBMISSIONS MUST BE POSTMARKED BY 1/15/13 AND RECEIVED BY 1/31/13.
You can also redeem your rebate ONLINE HERE!
Anything to Add? Leave a Comment!