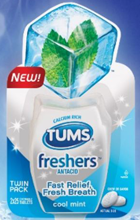 Request a FREE TUMS freshers Heartburn Relief Sample courtesy of Target.
The page doesn't always load properly or sometimes it freezes so just hit the "F5" key on your keyboard to refresh the page. That usually works for me.
Please allow 8-10 weeks for your sample to arrive!
Enjoy.
Anything to Add? Leave a Comment!