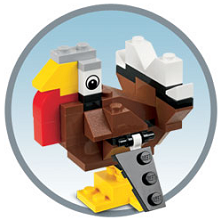 On Tuesday (November 6th) your child can build a FREE LEGO Turkey at Lego Stores!
This starts at 5PM for children ages 6-14 only!
You can also find a participating store on the website under US locations!
"One day each month you can learn how to build a cool LEGO mini model, and take it home – for free!"
Anything to Add? Leave a Comment!