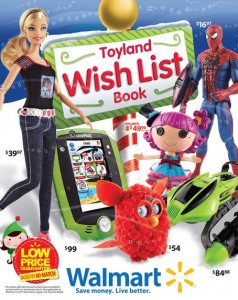 Have you heard the Walmart Big Toy Wish List Book for 2012 is out!
There are 48 pages of great deals on everything from toys for boys and girls to bikes, power wheels, video games and more! They also have a list of the top 20 toys for this Christmas which includes Furby (I didn't even like it that much the first time around), Leap Pad, and more!
Walmart has a deal on the new Wii U that is coming out on November 18th! This is going to be a HOT item for this Christmas. At least Nintendo is planning on that.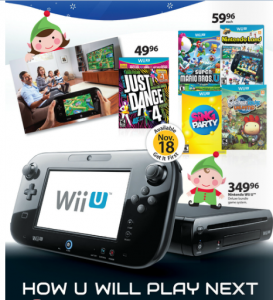 Walmart has added a new pay by Cash option for online shoppers. You may already know that you can purchase your item and have it delivered for FREE to your local store. This is especially great for heavy items that would be very expensive to ship. Now they are offering online shoppers a pay by Cash option which will be waiting for you at the store. This is a great option for people who are wary of typing in their credit card information or maybe you don't use credit cards. This is also great for people who don't own computers and use public computers. I think Walmart is smart in offering this which makes it even more convenient for people who are still holding out on online shopping.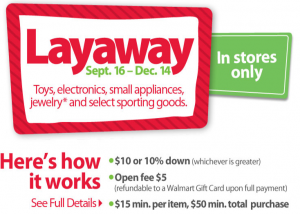 If you didn't know you can also use Walmart's Layaway option this holiday season! You put down $10 or 10% of total (whichever is greater) and a minimum of $15 per item and $50. This is extremely helpful for those expensive toys. I think I might use this for my son's dsi he wants. There is a $5 fee which you get back on a gift card once the item is paid out. This does end on December 14th. It is currently going on now.
Anything to Add? Leave a Comment!