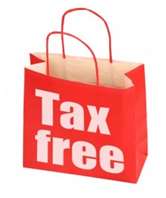 Don't forget Louisiana Tax Free Weekend starts at 12:01am August 3rd through 11:59PM August 4th! So Friday and Saturday you will NOT pay the 4% Louisiana State sales tax on personal goods up to $2,500! You will still pay parish tax. So if your sales tax is 8% then you still pay 4% on purchases these two days only.
This is perfect weekend to finish up your school shopping for uniforms, underwear, socks, backpacks, and shoes! Or maybe you need some new furniture!
Here are the purchases  that will NOT be Tax Free this 2012 weekend!
Cars (subject to license and titles)
Meals made and consumed on premise (think restaurants)
To go meals
Any items purchased for a business or non-profit so only personal use will count.
Hotel Rooms
Amusement, recreational, and athletic admissions
Repairs to tangible personal property
Laundry, cleaning, pressing, and dyeing services
Vehicle parking
The furnishing of cold storage space
Printing services
Telecommunication services
There are a couple of exemptions to the tax free weekend.
The customer buys and accepts delivery of eligible property;
The customer places property on layaway;
The customer acquires property that was previously placed on layaway; or
The customer places an order for immediate delivery, even if delivery must be delayed, provided that the customer has not requested delayed shipment.
Rain checks issued BEFORE the holiday will be tax free if you buy them during these 2 days  BUT rain checks issued during the weekend will not be eligble for later use.
If you have any other questions then please go visit the Louisiana Revenue Web Page for the Sales Tax Holiday Info and watch the short video.
Anything to Add? Leave a Comment!