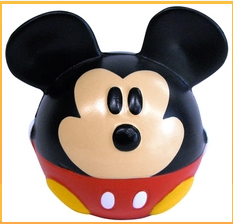 Right now you can get the Disney Movie Rewards Deal of the week! Each Monday there will be a new deal.
This week's deal is the Mickey Mouse Magnet for 300 points.
It is a limited offer and only 2,500 left so this won't last long.
Here is information from the site:
Perk up any metal surface with this adorable Mickey Mouse ornament made of soft molded foam. Place him on your car, locker or a cabinet – the powerful felt-covered magnet holds tight and won't scratch the finish! Approx. 3″ H.
The product has a high-powered magnet. Do not place near electronic devices, as strong magnetic fields can damage media devices, credit cards, and video tapes. Never allow near a person with a pacemaker or similar medical aid, as it may affect its operation.
Please allow 6-8 weeks for delivery! These rewards come quickly.
Anything to Add? Leave a Comment!