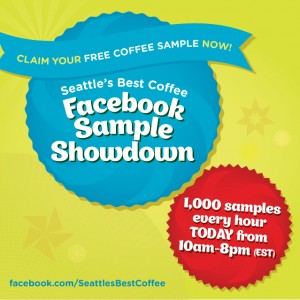 Seattle's Best Coffee is celebrating the Red Cup Showdown finale by giving away 10,000 FREE Seattle's Best Coffee Samples on Facebook tomorrow!
How it Works
Just "like" the Seattle's Best Coffee Facebook page and between 10 a.m. and 8 p.m. EST on Thursday, Aug. 23 request a free sample of Seattle's Best Coffee, which makes a 10-cup pot of coffee!
1,000 samples will be available every hour for 10 hours in honor of the Red Cup Showdown Grand Prize winner who will be taking home $10,000 for the most creative coffee beverage in the nation!
Don't forget that I am giving away ONE (1) FREE Bag of Seattle's Best Coffee Level 1 6th Avenue Bistro!
The giveaway already started so make sure to enter by CLICKING HERE to ENTER!
The giveaway ends at 9PM EST!
Anything to Add? Leave a Comment!