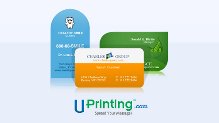 As a blogger, I actually do need business cards. It's my calling card when I'm out shopping and when I start going to blogger conferences, then I will really need them.Yes I do get stopped by complete strangers often asking me where I get the coupons I have (the printed ones) and how I learned how to save so much money. I like handing them my card which has my website, facebook, twitter, and email info. I tell them about my blog. I do have to promote myself.
UPrinting.com creates unique and customizable die-cut business cards for those looking to go "Outside the Box" when looking to expand or order new business cards!
If you're the type who likes standing out, then you should go for our die-cut business cards. What makes these cards different is their unique and attractive shapes. When you print business cards at UPrinting, you'll have seven options available for die-cut shapes. Choose a shape and start creating your custom business cards using our Easy Design tool!
Prize Information:
One lucky winner will receive 250 Die-cut Business Cards! Enter using the rafflecopter below.

You will have a choice of sizes listed below
2×3.5″ Rounded Corners, or 2×2″ Rounded Corners, or 1.75×3.5″ Rounded Corners, or 2×3.5″ Leaf, or 2×3.5 Rounded one corner, or 2×3.5″ Half-Circle Side, or 2×3.5″ Oval, or 2.5″ Circle
14pt Cardstock Gloss / Matte / High Gloss (UV) or 13pt Cardstock Uncoated
Once you win then it will take 6 Business days print turnaround time and Free US shipping only!
Restrictions:
This giveaway is open to US residents only, 18 years old and above.
No prize substitutions allowed.
Winners are allowed to win once over a six-month period.
Only email addresses used for the giveaway will be eligible to claim the prize.
The giveaway ends on Sunday June 10th at 11PM CST! Good luck!
"You should assume that I will receive free print products in exchange for the post. Any and all reviews posted are based solely on my own experience and may be atypical. Please practice due diligence in making any related purchase decisions. Interested to hold a giveaway like this? Please sign up here."
Anything to Add? Leave a Comment!