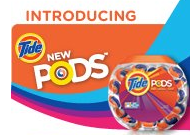 Every day this week Family Dollar is giving away FREE Tide Pods Samples to the first 1,000 people!
The page is loading slowly and these are going super quick. We have a chance daily so keep trying.
I will try to alert you when it is live daily on my Facebook page so make sure you are following me!
Anything to Add? Leave a Comment!