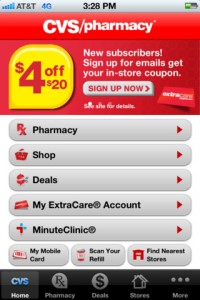 I am so excited to find this information that I had to share it with everyone! I am thrilled about this new app for the smartphone!
CVS/pharmacy has introduced an updated mobile app that allows you to digitally store your ExtraCare card in their smartphone, eliminating the need to carry an ExtraCare card while shopping! The CVS mobile app now allows you to simply scan the barcode on the back of your card or type in your account number manually. After the barcode is captured, your smartphones will work just like ExtraCare cards at the register!
The CVS mobile app is available as a free download from Apple's App Store or through Google Play.
In addition to access to your ExtraCare barcodes, users of the CVS mobile app will find a completely redesigned look and feel. The updated interface includes quick thumb links to popular features such as:
Prescription refill scanner
CVS/pharmacy store and MinuteClinic locators
Mobile weekly circular with local deals and promotions
Access to ExtraCare account
Full mCommerce shopping
Download it today and never worry about forgetting your ExtraCare card again!
Thanks Katie's Krazy Savings for deal alert and photo!
Anything to Add? Leave a Comment!